Ouch! XLF Financials Breaks Support to Trigger Breakdown
09/21/2015 7:00 am EST
Focus: ETFS
Given the Fed's announcement Thursday, Corey Rosenbloom, of AfraidToTrade.com, takes a technical look at stocks in the financial sector ETF that triggered bearish sell signals Friday and suggests key levels to watch next, depending on the ETF's next move.
Stocks in the financial sector are triggering potential bearish sell signals Friday on a breakdown under a key support trend line.
Let's highlight this trend line breakout, note the bigger picture, and plan accordingly.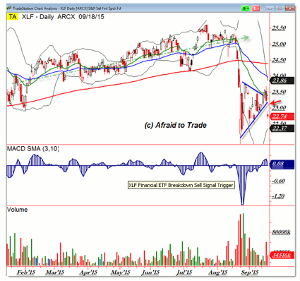 Click to Enlarge
All was well through most of 2015 with the Financial Sector SPDR ETF (XLF) as seen with higher bullish volume in June and July along with a stable rising trend through all of 2015.
All of that changed in August when price collapsed and bearish (liquidation) volume surged to new highs…as price erased all the gains of 2015 and more in just three sessions.
A logical retracement catapulted price into the underside of the falling 20-day EMA (Green) which is a target to play for on a retracement swing.
It's also a spot to short-sell against if you believe additional downside price action is likely.
After a failed breakout beyond this level—it's roughly $23.40 per share—price formed a nasty bearish engulfing candle on the daily chart and then broke under the lower rising trend line to trigger (and confirm) a sell signal in the ETF.
Shares of leading companies like Goldman Sachs (GS) and Morgan Stanley (MS) are showing similar patterns.
The implication from the breakdown is that price can once again move to test the spike-reversal lows near $22.00 per share in the ETF and comparable price levels in the individual financial companies that comprise the sector ETF.
Here's a Zoomed-in Perspective of the Pattern and Breakdown Friday:

Click to Enlarge
A symmetrical triangle formed for most of September and we saw the bullish breakout propel price into the upside target (prior high) above $23.60.
With divergences—and the Fed Day announcement last Thursday—price moved down away from this target back toward the lower rising key support pivot ($23.20 at the time).
Friday's session saw broader market weakness and a gap breakdown lower for the Financial ETF (XLF).
This doesn't bode well for the sector and again could suggest a continuation movement toward the prior lows above $22.00 per share.
For now, focus on the $23.00 level as an alternate thesis breakout that—if price pushes back above it—could negate the expectation for a retest of the prior low.
Otherwise, we'll focus on the possible movement lower down away from this short-term pattern.
By Corey Rosenbloom, CMT, Trader and Blogger, AfraidToTrade.com