Is the Market Reliving 2012? Or Maybe 2008?
01/11/2016 7:00 am EST
Focus: STRATEGIES

Tom McClellan, of The McClellan Market Report, examines the similarities and fundamental differences between the stock market of today versus that of 2012 and 2008 and shares why—despite these differences—he feels a downward trend is still in motion and what this might suggest for the remainder of 2016.
Stock Market Committed to 2008 Scenario
In a previous article, I posed the rhetorical question about whether the market was reliving its past from 2012 or from 2008. The financial panic in China seems to have settled the question for us and the market has decided on the 2008 scenario.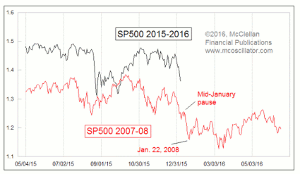 Click to Enlarge
I want to declare for the record that the fundamental situation now versus then is wholly different. If you look at any measure of the fundamental value or direction of the market, we are just not in the same sort of conditions now.
The January 2008 sell-off was sparked by the AT&T (T) CEO making vague comments about a supposed slowdown in consumer spending and the current panic is supposedly over China bringing down the whole world. Cue in Chicken Little, declaring the that sky is falling and we're all going to die. But yet we are seeing the same sort of price action that we saw in late 2007 and early 2008. This helps to make the point that perhaps the fundamental factors which we might think should matter are not the real factors determining the movements of prices.
One point of similarity is that we are now in an election year at the end of a second presidential term. Election years can be iffy, especially in a second presidential term. The 22nd Amendment stipulates that "No person shall be elected to the office of the President more than twice…." So no matter what happens, we are guaranteed to get a new and unknown person to take the job. Wall Street does not like doubtful situations and so traders tend to respond by withdrawing from risk.
Whatever may be the real driver of price movement physics, we are seeing the market turn down like it did in January 2008 and not turning up like January 2012. So the presumption is that we are in for a bear market year. It does not have to be of the magnitude of 2008—or 2001-02—but a downward trend is still what is upon us. To read the entire article click here…
By Tom McClellan, Editor, The McClellan Market Report