Are We Likely to See a Reversal into New Lows?
01/13/2016 7:00 am EST
Focus: STOCKS
Springheel Jack, of SharePlanner.com, reexamines several calls he made in 2015 and takes a new technical look at the charts for the S&P 500 to determine where he thinks it currently sits now within this leg of the downtrend.
I have promised my wife that I will fight against my strong natural English tendency to understatement this year and will at least mention particularly sweet calls that I make when they make target. This is therefore a good time to look back at my first post after Christmas on Monday, December 28 where I gave 70% odds that RUT was about to decline 10% into the 1030 area. RUT tagged 1031 Monday, slightly less than ten trading days after that post and I'm considering that target made, though I'm not expecting that low to hold long.
Also worth a mention is my call in the same post that the odds were 50% that SPX would close the year red for the first time ever in a year ending in a 5.
Obviously that delivered too, though I'd note that the stat I'd read that SPX had not closed red in a year ending in a 5 since 1875 would have been more impressive if SPX hadn't been launched 48 years later in 1923. Nonetheless that was still an unbroken string of nine examples that has now been broken. Not the only big stat that was run over last year of course.
Moving on to Tuesday, I posted an earlier version of the chart below on Twitter Monday before the falling wedge from 2022 broke up and gave the ideal fib target range as 1947, 1961, and 1975. SPX 5min chart: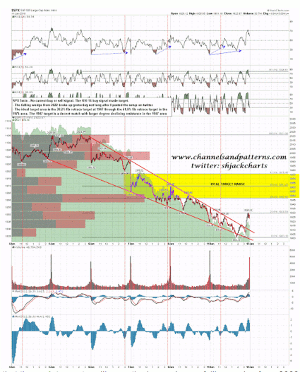 Click to Enlarge
I'd note that the resistance trend line on the larger degree falling wedge from 2062 closed in the 1947 area Monday and that if we are to see a reversal into new lows then that trend line is the obvious target and would most likely be hit Tuesday morning. To read the entire article and see the second chart click here…
By Springheel Jack, Contributor, SharePlanner.com