Bargain Hunters Tend to Pay Attention to Insider Buys Like This
02/12/2016 7:00 am EST
Focus: STOCKS
The staff at DividendChannel.com takes a technical look at the stock of this Pennsylvania-based drug wholesale company, since—on Thursday—bargain hunters could buy shares and achieve a cost basis 15.6% cheaper than director Durcan's buy.
There's an old saying on Wall Street about insider buying: there are many possible reasons to sell a stock, but only one reason to buy. Back on December 2, 2015, AmerisourceBergen Corp.'s Director, Dermot Mark Durcan, invested $99,697.00 into 1,000 shares of ABC, for a cost per share of $99.70. Bargain hunters tend to pay particular attention to insider buys like this one, because presumably the only reason an insider would take their hard-earned cash and use it to buy stock of their company in the open market, is that they expect to make money.
In trading on Thursday, bargain hunters could buy shares of AmerisourceBergen Corp. (ABC) and achieve a cost basis 15.6% cheaper than Durcan, with shares changing hands as low as $84.19 per share.
AmerisourceBergen Corp. shares are currently trading down about 1.2% on the day. The chart below shows the one-year performance of ABC shares, versus its 200-day moving average: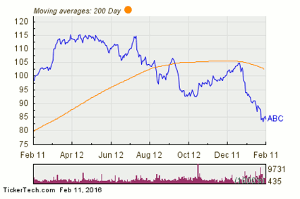 Click to Enlarge
Looking at the chart above, ABC's low point in its 52-week range is $80.50 per share, with $120.68 as the 52-week high point, that compares with a last trade of $84.67.
For a comparison table showing prices over the last six months and to read the entire article, click here…
By the Staff of DividendChannel.com