Will the World Be Ready for 5G in 2020? Will It Be Ready Even Sooner?
02/24/2016 7:00 am EST
Focus: STOCKS
While the unofficial launch date for the first commercial, standardized 5G network is 2020, the staff at Kapitall.com highlights several tech and telecom companies that are eager to make 5G somewhat commonplace before then and the initiatives each company is taking.
By 2020, the world is supposed to have 5G mobile technology. Tech and telecom companies want it earlier.
Imagine a world where you can download a feature-length HD movie in seconds. With 5G mobile technology, the next generation of wireless connectivity, this would be the new standard. The unofficial, possibly optimistic launch date for the first commercial, standardized 5G network is 2020, but several tech and telecom companies are eager to make 5G somewhat commonplace before then.
Due to its high speed (which is up to 50 times faster than 4G LTE), 5G will make it easier for users to watch video, use virtual reality, and participate in the Internet of Things (IoT). And demand for the latter technologies is expected to expand at such a rapid rate that the existing network infrastructure soon won't be able to meet users' needs.
According to market research firm Gartner, 20.8 billion devices will be part of the IoT by 2020, up from 4.9 billion in 2015. These connected devices will range from wearables and cars to smart grids and building-management systems. The virtual reality market, which is practically non-existent at the moment, is projected to grow to $30 billion over the next four years.
Speaking to the press on Sunday, the night before the Mobile World Congress (MWC) in Barcelona, Nokia (NOK) CEO Rajeev Suri stated he expected to see 5G before 2020. Citing the proliferation of virtual reality, video, and the IoT as major reasons for the mounting 5G demand, Suri said, "2020 is probably when we'll see global volume deployments, but we'll probably start to see a lot of action, in an evolutionary way, ahead of 2020…2017, 2018, 2019."
If 2017, 2018, and 2019 are expected to be years of action, then 2016 can be considered a year of pre-action. 5G is one of the hottest topics at MWC, Europe's largest consumer electronics showcase, where vendors are focusing on the commercialization of 5G by demonstrating products suited for the high speed Internet access.
On Monday at MWC, Intel (INTC) introduced its "connectivity solutions designed for the IoT," which include a wireless communication platform for connected cars and a modem for smart buildings. That same day, Cisco (CSCO) and Ericsson (ERIC) revealed they are working with Intel and Verizon (VZ) on a wireless 5G router. Even Facebook (FB) is joining the conversation: founder and CEO Mark Zuckerberg introduced Telecom Infra Project, an initiative that is bringing telecom firms together to develop a 5G network infrastructure.
The race to make the first commercial 5G network a reality is underway and MWC isn't the only place companies are stepping up their efforts. Several of Intel's recently announced partners in the quest to develop and test 5G products—AT&T (T), Ericsson ERIC and Verizon—are also experimenting with the technology. AT&T is preparing to conduct field tests later this year, while Verizon's field tests are already underway and Alphabet's (GOOG) project Skybender is testing solar-powered drones' ability to deliver 5G around the world.
Below is a list of the aforementioned companies that are working on 5G solutions.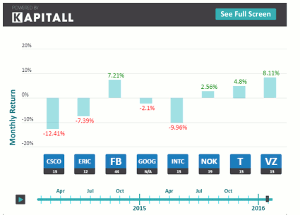 Click to Enlarge
To read the entire article, click here…
(Monthly return data sourced from Zacks Investment Research. All other data sourced from FINVIZ.)
By the Staff of Kapitall.com