Join Gene Inger LIVE at TradersEXPO Las Vegas!
Join Gene Inger LIVE at TradersEXPO Las Vegas!
Wall Street Bull Market Skips Dog Days of August Today
08/21/2018 3:22 pm EST
Focus: TRADING
Speculative attacks on markets have been thwarted repeatedly by the various interventions of governments, be it here in Rome, where Italy has urged the ECB to extend QE to protect peripheral Europe overall and Italy in particular, writes Gene Inger from Rome today.
Or in China, via large overnight injections of liquidity Monday, which sent not only Shanghai and Hong Kong higher, but also helped levitate global markets again.
Reuters: The bull that won't die. S&P 500 back Tuesday after months on ice.
Then you had the Monday afternoon news of a purported delay in China trade talks which are supposedly not occurring until November (after midterms). That of course is not a plus, but since I had that story two hours before the close, it obviously didn't burnish the market's effort to continue a rotation higher. To me this looks most like a light-volume exhaustion move.
That Chinese intervention (much like the Reserve Requirement hike we'd noted two weeks ago) has a palliative effect on near-term concerns. And, of course the promise of favorable results from U.S./Chinese trade talks as well portend (as the markets must be counting on based on responses).
It is a reason I view the chaos in Washington as distracting and delaying the real business of the nation, as now centers on the trade and tariff issues.
So, is everything really suddenly brighter?
From these high S&P 500 (SPX) levels of course not terribly opportune. While from the perspective of a favorable or temporary response to a trade deal (should it be forthcoming), of course. I was puzzled that the market mostly ignored the idea of deferring trade talks.
And risks the U.S. making mistakes due to the diverted attention to the trade issues as they focus on politics in the normally quiescent dog days of August.
At the same time, the political scene in the U.S. is not moving markets, at the same time as the distraction of the piling-on of legalities. This includes the attorney for the White House, not the president's personal lawyers, clearly cooperating with the Special Counsel.
Ironically, while quite a few Italians (and other tourists I've met) immediately ask about our president, the view over here seems more favorable than in Paris, and the most enthusiastic expressions I've heard were from a couple Russians.
In-sum: The Chinese market manipulation was sufficiently forceful to juice markets, as least for a bit.
A lot of the staying power of the S&P indirectly I believe is attributable to the lower yields of 10-year Treasuries, which has a dampening effect on equity liquidations, while also suggesting everything isn't quite as rosy as perceived economically.
While political revelations and tweets about Chinese manipulation tariff implementation and delays in negotiations, dominate the speculation, the market structurally is trying to shrug-off concerns by simply rotating into a slew of less volatile issues.
I am skeptical that can offset fading FANGs, but the week is young, and we shall see.
Related Articles on TRADING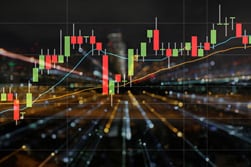 Astrological Market Trifecta
06/15/2019 11:50 am EST
The week June 17-21 features three significant astrological events that could affect the Fed, crude ...