STRATEGIES
Chief Operating Officer,
Peoples Equity Group
Follow
About Dakota
Dakota Smith, COO of Peoples Equity Group, has a decade-long track record in leadership, marketing, and capital raising. He now focuses on talent acquisition, streamlining processes, de-risking investment initiatives, and pursuing strategic partnerships with sponsors and mezzanine debt lenders.
---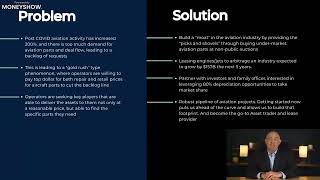 Join Dakota Smith as he highlights the potential of aviation rentals as a profitable investment option. He will explore the increasing demand for air travel and the subsequent need for aircraft, presenting a compelling case for investing in this high-demand market. He emphasizes the financial benefits of aviation rentals, such as generating a steady stream of income through rental fees, while avoiding ownership costs and operational complexities. This presentation also addresses risk management strategies and emphasizes the resilience and potential appreciation of aircraft values. Dakota concludes by outlining the accreditation requirements for investors to access exclusive opportunities in this sector.


To achieve better than market returns might involve investing large sums of capital in hedge funds or getting into speculative markets like cryptocurrency, where the value is contingent on the consumer market at any given time. Over 11 billion dollars has been invested into consolidating online businesses over the last five years in the e-commerce industry, including the fastest company in the US to reach a $1 billion dollar valuation profitably, and companies whose valuations are more controlled by private placements for institutional investors than by public markets. We will reveal how to do exactly the same thing by buying, scaling, and then flipping eCommerce stores to end buyers who realize how young this market is, some of whom have been seeking such an opportunity for the last five to ten years.