Follow
About Larry
As partner and chief investment officer, Larry Berman is co-founder of ETF Capital Management and Quintessence Wealth. Since 2007, he is well known as the host of Berman's Call on BNN Bloomberg. Mr. Berman's qualifications and 30-plus years of industry experience are extensive. He is a Chartered Market Technician (CMT), a Chartered Financial Analyst (CFA) charter holder, a US registered Commodity Trading Advisor (CTA), and holds a BA in economics from York University.
---
Timing the market with perfection is next to impossible. It has always been about balance for most investors. Historically, the risk mitigation (the protection part) of your portfolio came from fixed-income. This asset class is severely impaired with the colossal amount of debt in the world. Inflation pressure makes this asset class even more challenging. Larry Berman will highlight what his macro risk models are suggesting about market opportunity, where we need to be cautious, and how advisors can protect and participate in markets without using traditional fixed-income to provide the new 60:40 balance portfolios will need in the future.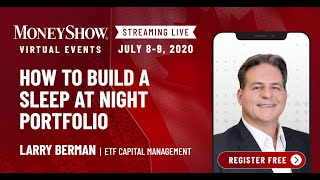 Larry Berman's focus is to provide his clients with an all-in-one, tactical portfolio that helps them meet their investment goals while being able to sleep-at-night. Please join us as he discusses his unique investment process which he leverages in three products he manages for BMO: BMO Tactical Growth ETF Fund with a focus on growth with capital preservation, BMO Tactical Dividend ETF Fund focused on risk adjusted returns and income, and BMO Tactical Balanced ETF Fund which focuses on total return. Don't miss the chance to ask Larry your most pressing investing questions in the live webinar!

---