E-mail: dtrs@daytradingradio.com
Web site: www.daytradingradio.com

About Day Trading Radio
Daytradingradio.com is a live, online market broadcast lead by John Kurisko aka "DayTraderRockStar," a full-time trader of nearly 20 years. The show kicks off every morning around 8:30 am (EST), with live coverage of pre-market movers and news that will affect the trading day, followed by an action packed play-by-play of the market as it happens all day. The commentary, sounds, and education brought to you by Daytradingradio cannot be matched anywhere. Daytradingradio.com has been broadcasting since 2007 serving thousands of traders worldwide.
Day Trading Radio's Videos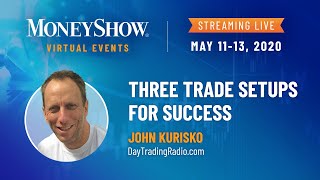 John Kurisko aka "DayTraderRockStar", host to the daily stock market trading show, has been trading full time for over 25 years. In this session he will show you his three top trade set ups.



Learn how to trade everyday using one trade set up and pattern. This is the highest-probability trade set up taught by me daily on Day Trading Radio. Enjoy the live presentation with real examples of this methodology.

---