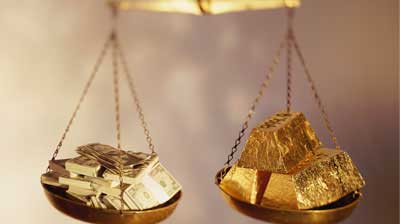 As the market continues to trade sideways during earnings season, MoneyShow's Tom Aspray takes a look at a sector about to enter a seasonally strong period and an attractive stock in that sector.
Another mixed session for stocks on Wednesday as the Dow was hit hard by the 3.3% drop in Boeing Co. (BA). The earnings so far this week have been a plus for the market but it will get another test today. Citigroup (C) and Bank of America (BAC) report before the bell and Intel Corp. (INTC) reports after the close.
It may take much better than expected earnings from Intel Corp. (INTC) to change the negative sentiment on the tech sector. The declines in the broad market, like the S&P 500, have been well supported. A strong close above the recent highs will confirm that the correction is over and punish the market skeptics.
Energy was one of the worst performing sectors in 2012 as the Select Sector SPDR Energy (XLE) was up just 7.4% in 2012. This lagged well below the 17.1% gain in the Spyder Trust (SPY). So far in 2013, XLE has done a bit better than SPY but the relative performance analysis has not yet confirmed that it is a market leading sector.
The daily technical picture for the March crude oil contract oil turned positive in the middle of December. It is up 10% from the early December lows, while XLE is up 6.7% from the December 31 low. A look at the seasonal tendencies for crude prices suggests that the energy sector may soon catch up with crude oil prices.

Click to Enlarge
Chart Analysis: The weekly chart of the crude oil contract reveals that it has a seasonal tendency to form a secondary low on February 8. The chart shows that it typically forms an initial high in April and then a final top in late August.
This analysis uses the seasonal indicator from Trade Navigator and uses data going back to 1984.


The weekly chart shows that prices are currently trading the weekly downtrend, line b, that connects the 2012 highs.


The longer-term downtrend (line a) is now just below the $106 level.


There is long-term support, line c, at $78.80 with the 2012 low at $77.24.


The daily chart of the March 2013 crude oil contract shows that the resistance at $95.20, line d, has now been reached.
There is additional chart resistance in the $96-$98 area.


The uptrend in January has been gradual after the resistance at $91.60 was overcome.


The on-balance volume (OBV) broke through its 3 ½ month downtrend, line f, in December.


The trend in the daily OBV is clearly positive and the weekly OBV (not shown) has overcome its early 2012 highs.


There is initial support at $92.83 and the rising 20-day MA with further support now at $91.60 (line e).


NEXT PAGE: An Attractive Stock in an Attractive Sector