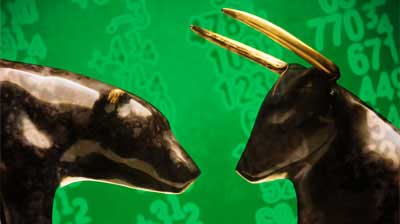 Hoping to lure investors into a massive bank IPO and other financial stocks, China is pouring cash into its banks. That could mean big profits—at first.
Maybe it isn't precisely a Ponzi scheme, but China's banking policy sure comes close.
China has made headlines this year by repeatedly raising the reserve requirements for its banks to a current high of 17%. The moves have raised fears among global investors that Beijing might overreact and slow China's growth enough to send the world economy reeling. But acting to raise reserve requirements has also given China's banking regulators a reputation for foresight and prudence that contrasts favorably with the inaction of the bank regulators in many developed economies who chose to sit on their hands while asset bubbles inflated.
That reputation may not be deserved, though.
Requiring banks to keep more capital in reserve, rather than lending it out, means China's banks have less money to lend. That means fewer loans for real estate speculators and developers, for the bosses of money-losing factories, for stock market speculation by individuals, and for Chinese corporations.
At least in theory.
In practice, however, China's banks have been told by the government to make almost as many new loans as in 2009, the year when everyone agrees bank lending ran amok.
How can they do that if they have to keep more in reserve? Simple. They raise capital in China's stock markets by selling new shares.
China Rebuilds a Great Pyramid
Here's what brings the scams of Charles Ponzi to mind: In the 1920s, Ponzi ran a scheme that promised investors a 400% return on their money from a plan to arbitrage the difference in postal prices between Europe and the United States for international reply coupons. Ponzi's plan never worked, but he was able to attract a huge pool of cash from his victims by paying out big returns to early investors with money handed over by later investors. The key to Ponzi's scheme was paying out investors' own money to attract more investors.
In the case of China, ask: Who would buy an offering of bank shares when the government, very vocally, is cracking down on lending? And when government officials are warning daily about the dangers of bad loans in the banking system?
No one, that's who—unless government-sponsored, controlled, or owned investment funds were putting up cash that promised investors huge future returns.
So, for example, China's national pension fund has invested $2.2 billion in the Agricultural Bank of China in the run-up to the bank's initial public offering. That IPO is expected to be the world's largest ever, at $30 billion. And, of course, it helps to sell shares if you can show that the government—via the National Council for Social Security Fund—has put money into the bank. (The national pension fund has money invested in all of China's largest publicly listed state-owned banks.)
After the $2.2 billion investment, the pension fund will be the third-largest investor in the Agricultural Bank of China.
The top two? China's Ministry of Finance and the country's sovereign wealth fund.
You think that a few investors might buy this IPO because they think the government won't let the price go down? They think the IPO game is fixed using government cash, and they want to play. (For more on China's interesting history of using government cash to bail out banks that are drowning in bad loans, see my March 11 column, "Is China Actually Bankrupt?")
And on the evidence, those investors aren't wrong. Even as the Shanghai stock market is suffering through a true bear market, with stocks down more than 20% from their November 2009 highs, China's IPOs have been delivering huge profits. So far in 2010, Chinese IPOs have raised $25 billion, three times more than IPOs in the US. In their first month of trading, Chinese IPOs have gained an average of 32%.
So why wouldn't a Chinese investor buy in an IPO from the Agricultural Bank of China or a stock offer from any other Chinese bank?
Article Continues on Page 2