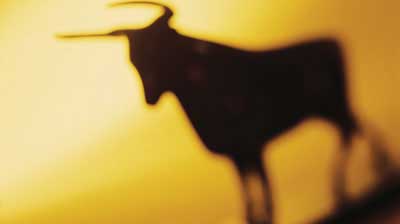 The market has been less volatile than expected so far this year. But it could get a lot riskier in the months to come. Here's what to watch for, writes MoneyShow's Jim Jubak, also of Jubak's Picks.
Where does the stock market go from here? For those of us who started the year skeptical, is it time to abandon our skepticism and jump in whole hog? For those of us who have caught all or much of the rally, is it time to start taking profits or is the best course to stand pat?
I ended 2011 and started 2012 saying that I thought the first half of 2012 would be scarily volatile, and investors should keep their powder dry for a second-half rally after the People's Bank of China cut interest rates. Wrong, as of seven weeks into 2012.
About two weeks ago, I opined that the rally now under way would run through February 29-when the European Central Bank offered European banks an additional ?1 trillion in loans. Until then, I said, it was safe to play the rally. After that, the odds of a correction would increase. Is that still true?
Let me give you my take on where we are now and what moves are most likely to result in good returns at less than market risk.
A Worldwide Rally
The US market has turned in a stunning beginning-of-the-year rally. The S&P 500 had returned 8.56% as of Friday, February 17. The small-company stock Russell 2000 Index has crushed even that return. That index is up 11.97% through February 17.
The rally isn't limited to US markets, either. The iShares MSCI Brazil Index (EWZ) is up 19.78% through February 17. The iShares FTSE China 25 Index Fund (FXI) is up 15.46% for the same period.
Hey, even the European and Japanese markets are up big time year-to-date. The iShares MSCI EAFE Index Fund (EFA), which has 85% of its portfolio in Europe and Japan, is up 10.07% through February 17.
In other words, this rally has been worldwide. Which, it turns out, offers some pretty important clues for why the market has behaved as it has so far in 2012.
First, we've had a rerun of the risk-on trade that formed half of the risk-on/risk-off pattern that dominated 2011. In the beginning of 2012, investors felt comfortable taking on more risk because the two big dangers left over from 2011 seemed less threatening.
Europe Stabilizing
First, Europe seems less likely to blow up.
I don't mean that the Greek crisis was resolved, fixed, solved or whatever. In fact, during the past few weeks European politicians have practiced a degree of brinkmanship that is truly scary. A Greek default in March has seemed a careless word or a misplaced decimal point away. (For my take, see "What happens if Greece goes bust?")
But the huge ?489 billion in three-year loans extended by the ECB in December to European banks, and the prospect of as much as an additional ?1 trillion in lending in a second facility on February 29, made it far less likely, in the market's opinion, that a Greek default would take down the European banking system.
It also reduced the risk that an unexpected failure of a European bank or two would blow up a systemically important bank somewhere else (such as in the United States). A market that's worried about the end of the world has a pretty low threshold for good news.
Second, the global economy seems less likely to sink into a recession. Sure, Europe is headed there, but the US economy grew by 2.8% in the fourth quarter of 2011, and the Federal Reserve has promised to keep interest rates at their current extraordinarily low level through the end of 2014.
Other central banks have unleashed their own stimulus packages on the world economy. The Banco Central do Brasil has been cutting interest rates since August. The People's Bank of China lowered reserve requirements again on February 18.
Meanwhile, the Bank of Japan announced an expansion of its plan to purchase debt instruments. And then there's all the money that the European Central Bank has pumped into the Eurozone economies with its purchase of Italian and Spanish government debt and its bank lending facility.
There's no guarantee that this river of cash will stop the slowdown in the world economy short of real pain, but growth prospects in both the US and Brazil improved in recent government numbers, and in China it's increasingly clear that the government has embarked on a policy of monetary stimulus.
I think that all adds up to a reasonable explanation for why global stock markets have rallied so dramatically. But what we're interested in now is not where the stock market has been but where it may be headed.
Remaining Questions in 2012
Of course, no one knows what will happen in the remainder of 2012. Will official US unemployment sink to 7.8% by June?
Will the spike to 4.5% inflation in China in January turn out to be, as I believe, a side effect of the timing of the Lunar New Year in 2012 (more on this later)? Or does it signal a revival of inflation that will derail an interest rate cut in June or July?
Will the New Democracy party win an unexpectedly big majority in the April election in Greece and repudiate the recently negotiated austerity package?
I don't know; no one can be certain.
What we can do as investors is assess what the market now anticipates-what is baked into stock prices-and assess, to the best of our ability, the odds that what the market anticipates will actually occur.
So, for example, the US and global stock markets anticipate accelerating growth in the US economy. That's much more optimistic than the Federal Reserve's forecast. On February 15, the Fed lowered its estimate for growth of US gross domestic product in 2012 to 2.2% to 2.7%. That's down from a November estimate of 2.5% to 2.9% for 2012.
The reading from the Organisation for Economic Co-operation and Development, on the other hand, is more mixed-which is good news. In December the developed economies' think tank upgraded growth prospects for Japan and the United States but downgraded growth prospects for China, Brazil and Eurozone economies.