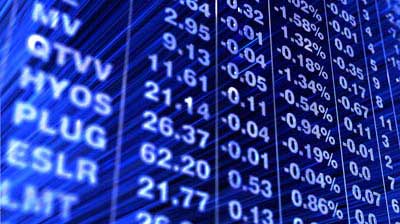 The world's biggest retailer is losing market share on multiple fronts, writes MoneyShow's Jim Jubak, also of Jubak's Picks.
Traders started yesterday worrying that sluggish sales at Wal-Mart (WMT) were a harbinger of trouble across the retail sector.
Before the New York markets opened, the world's largest retailer reported third-quarter earnings of $1.08 a share, a penny a share above Wall Street projections, but disappointing revenue of $113.93 billion, short of the $114.03 billion Wall Street consensus. Revenue climbed just 3.4% year-over-year, and same-store sales were up just 1.5%.
Looking ahead, the company guided analysts to earnings per share of $1.53 to $1.58 in the fourth quarter, versus the consensus projection of $1.57. Full 2013 earnings, the company said, would be $4.88 to $4.93 a share versus the $4.93 Wall Street consensus.
On that news Wal-Mart shares opened at $69.66, down from the previous close at $71.31. As of the close in New York, the shares had dropped to $68.72, down 3.63% for the day.
The Wal-Mart news took other retailers down as well. Costco Wholesale (COST) and Target (TGT), two of Wal-Mart's biggest competitors, for example, were down at the open. Costco opened for the day at $93.80 after closing at $94.47 the day before. Target slid to $61.22 at 9:37 p.m. in New York after closing at $61.38 the day before.
But the market quickly rethought its logic on the sector. Wal-Mart, the rethink concluded, was having trouble precisely because these competitors were taking sales from Wal-Mart.
Target, for example, had recovered to show a gain of 1.73% by the close. Costco had edged ahead by 1.3%. Dollar General (DG) was up 1.65%. (Costco and Dollar General are members of my Jubak's Picks portfolio.)
Wal-Mart has had to cut prices to fend off competitors. You could see that at Wal-Mart's Sam's Club units, which go head to head with Costco for sales to businesses. Comparable-store sales were up just 2.7%, well below the company's prior guidance for 3% to 5% growth.
"Sam's Club is stepping up price investment for the holidays, and we are well prepared for our members' gifting and entertaining needs," the company said.
But Wal-Mart is also facing increased competition from such discount chains as Dollar Tree (DLTR) and Dollar General. Those stores have attracted increased traffic because of prices that can be even lower than Wal-Mart's, because of smaller stores that allow cash-strapped shoppers looking to make multiple trips to stretch out a weekly check to get in and out more quickly, and by adding food items that let shoppers do more of their weekly purchases at these discount chains.
The fourth quarter is shaping up as a decent but intensely competitive period for retailers. Shoppers are going to be looking for value, and are likely to start their holiday search-and-buy missions at stores that promise the greatest chance at bargain prices.
Wal-Mart did a good job at laying out the trends in its conference call. At Sam's Club, shoppers are switching to chicken from steak, and at Wal-Mart they're buying cheaper detergent, said Wal-Mart Chief Financial Officer Charles Holley.
Customers with cash are buying in bulk to save money (Costco), and customers who are stretched at the end of the week or month are buying in smaller sizes (Dollar General).
"It's going to be a very competitive holiday season," Holley said. "Consumers want to get more for their money."
Full disclosure: I don't own shares of any of the companies mentioned in this post in my personal portfolio. The mutual fund I manage, Jubak Global Equity Fund, may or may not now own positions in any stock mentioned in this post. The fund did not own shares of Wal-Mart, Costco, Target, or Dollar General as of the end of September. For a full list of the stocks in the fund as of the end of September, see the fund's portfolio here.