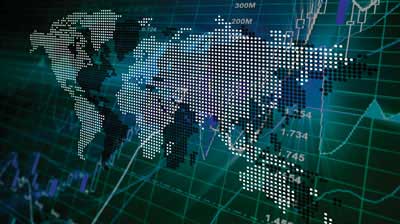 After years of underperformance, this could be the time for a rebound in the turmoil-driven markets of Greece, Spain, and Egypt, among others...but don't bet the house on it, writes MoneyShow's Howard R. Gold, also of The Independent Agenda.
In 2011, every major stock market in the world was down, except one-the US, which eked out a gain of less than 1%.
"In 2012, you had completely the opposite," said money manager Nicholas Vardy, who tracks 37 country exchange traded funds for his London-based firm, Global Guru Capital. Nearly all global markets were ahead in dollar terms in 2012, with many outpacing the US.
Now, Vardy believes a more fundamental reversal is under way: Emerging markets, which have lagged badly (as this column has pointed out repeatedly), are outperforming again.
And the very best developed markets in 2013 may well be-are you sitting down?-in Europe, especially its toxic southern debt belt of Spain, Italy, and Greece.
I know that's hard to believe, and I'll go into more detail later. But first the easy stuff-emerging markets.
Emerging markets, Vardy told me, vastly outperformed the US much of the past decade. But when the financial crisis hit in 2008, they fell behind and took a nasty hit in the summer sell-off of 2011.
But though they still trail the US over the last few years, Vardy said there were signs of a reversal.
"The last three months it's shifted [back,]" he told me. "Emerging markets and global markets in general have put in a very strong showing, and their outperformance has begun."
Why? It's simple: risk. Global markets have rallied since the Federal Reserve announced its latest round of bond buying, and before that, European Central Bank president Mario Draghi vowed to do "whatever it takes" to backstop the debt of shaky European economies. It's been one big "risk-on" trade ever since.
"Global stock markets are the ultimate 'risk on' asset," Vardy wrote in a post on his Web site. "When the US stock market does well, global markets tend to do even better."
"Investment in [emerging markets especially] is driven more by risk appetite than by fundamentals," he wrote. (Full disclosure: a family member invests in a fund Vardy runs.)
Over time, emerging markets have a "beta" (how much they move against US stocks) of 1.3 to 1.6 times the S&P 500 index. So, should the S&P rise 10%, emerging markets could gain as much as 16%. But they would fall harder than US stocks in any downturn.
That extra "beta," plus the higher growth rates of these economies, are behind the spectacular numbers some of these markets post in good years.
"You're going to be rewarded for taking on more risk," said Vardy.
NEXT: Who Will Be the Big Winners?