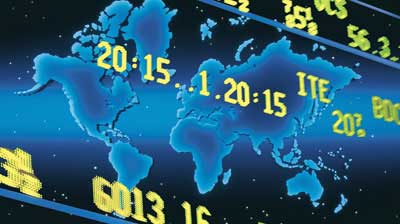 There are two stocks that are on the front line of the biggest shale fields in the US, and it's a good time to find out more about the opportunities that will mean, explains Frank Holmes of Money Morning.
The Eagle Ford shale formation lies south of our headquarters in San Antonio, Texas, giving the US Global investment team a first-hand, tacit perspective on the oil and gas industry's growing natural resources phenomenon.
We've witnessed how the oil activity is boosting the local economy with solid-paying jobs, a healthy housing market, and strong consumer sentiment, as oil giants such as Schlumberger (SLB) and Halliburton (HAL) take a bigger stake in the area.
After seven long decades of importing oil, the US seems only a few years away from reversing the flow, largely from shale technology not only in Texas, but several areas around the country.
In 2005, the US reported net imports of 13.5 million barrels per day, or almost two-thirds of its oil needs, according to Raymond James. By the end of 2012, net imports are projected to fall to 8.6 million barrels per day, which is about half of the country's current consumption.
By 2020, the estimated gap between supply and demand narrows considerably. Production has been growing at such a steady pace in recent years that Credit Suisse says the US should see the largest growth of crude oil than any other oil-producing country by 2015. An anticipated growth capacity of nearly 4 million barrels per day in the US is three times more than Iraq, and almost four times more than Brazil, Canada, and Russia.

Click to Enlarge
2012 might be the year that the world fully realizes the significant contribution North America has made to the overall global oil supply, especially after the International Energy Agency (IEA) claimed that the US would surpass Saudi Arabia as the largest oil producer around 2020.
The US output expected by 2020 amounts to more than 10% of what the IEA says will be the world's daily oil requirement of 96 million barrels per day by 2020. This compares to a consumption of 87.4 million barrels per day today. And, when you factor in the expected decline of about 10.5 million barrels per day from the mature fields around the world, North America's success in this area is significant to global supply.
In addition, new discoveries of oil have led to disappointing results. There was high hope that a small group of countries—Brazil, Russia, Iraq and Kazakhstan, or the BRIKs—would "redraw the world's oil map by boosting their production over the next two decades," says the Financial Times.