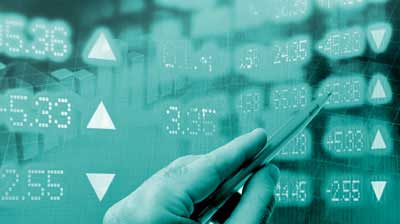 Wednesday's early drop in crude oil prices took them below key support and warned that stocks could soon follow. Moneyshow's Tom Aspray examines the stock market's current technical outlook to explain what type of correction we should expect.
The stock market underwent its sharpest decline since December 28 as the S&P 500 lost over 1.5% as did the Nasdaq Composite. The selling was much heavier in some of the individual sectors as the homebuilders, semiconductors, and oil services were considerably weaker.
The day started off poorly as the 8:30 am report on housing starts showed an 8.5% decline with over a 50% drop in the Midwest from the prior month. The release of the FOMC minutes in the afternoon was the main reason to sell. On Thursday, a weak market will have to deal with Existing Home Sales, Leading Indicators, and then two widely watched reports on manufacturing.

Click to Enlarge
The crude oil market gave an early warning of the stock market's slide. The 5-minute chart of the crude oil futures shows that the key support at $95.53 was broken just after 11am. This completed crude's double top formation that I warned about last week. The chart shows that the Spyder Trust (SPY) traded in a $152.40-$152.75 area for several hours before plunging after the FOMC minutes were released.
The stock index futures are lower again early Thursday but are still well above the widely watched support in the 1490-1490 area, so what's next?

Click to Enlarge
Chart Analysis: The daily chart of the NYSE Composite shows Wednesday's close below the 20-day EMA.
There is next chart support now at 8840-50 with more important in the 8719 area and the early 2011 highs, which is 1.8% below current levels.


Calculated from this week's highs the 38.2% Fibonacci retracement support is at 8548 along with the weekly starc- band (not shown).


The NYSE Advance/Decline made new highs this week before turning lower.


The A/D line is now testing its WMA with major support at the uptrend, line c.


There is near-term resistance now in the 8950-9000 area.


The Spyder Trust (SPY) closed below the prior six day lows on Wednesday but is still above the 20-day EMA at $150.76.


Using Tuesday's high the 38.2% Fibonacci support level is at $146.12 with the major 50% at $143.91.


The S&P 500 A/D line made new highs this week before turning lower.


The A/D line is still above its WMA and in a clear uptrend.


There is initial resistance now at $151.40 and then at $153.19-$153.28.


The multiple time frame OBV analysis shows that the daily OBV (not shown) is still above its uptrend but below its WMA while the hourly analysis is negative.


NEXT PAGE: How Sharp Will the Correction Be?