How Low Can the Euro Go?
06/04/2010 2:30 pm EST
Focus: FOREX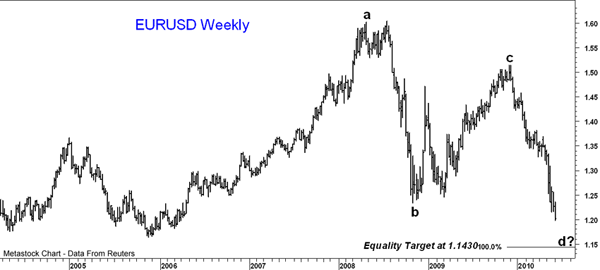 Click to Enlarge
We're witnessing another plunge in the euro today, and the weaker-than-expected jobs numbers did not help. The 1.2000 level has been broken, and if the decline from the November 2009 highs (point c) is equal to the decline from the 2008 highs to the 2008 lows (a to b), the equality or Fibonacci projection target is at 1.1430. There is also chart support going back to late 2005 in the 1.1650 area. Clearly, the market is very oversold with strong resistance at 1.2500.
Tom Aspray, professional trader and analyst, serves as video content editor for MoneyShow.com. The views expressed here are his own.