S&P Breaks Support—What Next?
06/30/2010 9:46 am EST
Focus: STRATEGIES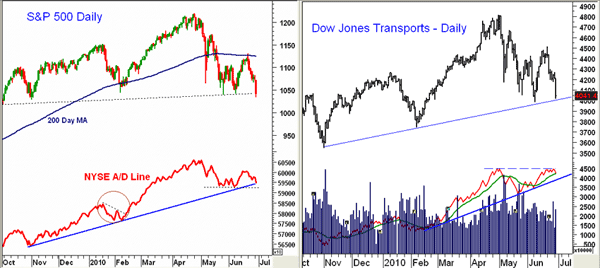 Click to Enlarge
The widely-watched S&P support at 1040 was broken on Tuesday as declines led advances by a seven-to-one margin. The confirmation of the April highs by the A/D line and bullish signals at the June lows have kept us positive. The A/D line is now close to key support and its intermediate-term uptrend. A violation of both would clearly weaken the technical outlook. The Transports have been a leading sector and are now testing the uptrend. The OBV, which identified the rally from the February lows, is stronger than prices.
Tom Aspray, professional trader and analyst, serves as video content editor for MoneyShow.com. The views expressed here are his own.