Have Food Product Stocks Turned?
12/10/2010 9:35 am EST
Focus: STOCKS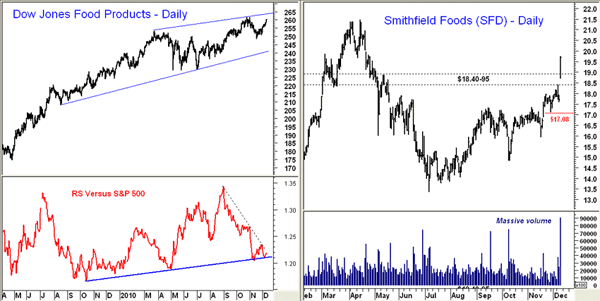 Click to Enlarge
The food product stocks peaked in late October and declined into the middle of November as higher commodity prices made investors nervous. The Dow Jones Food Products group has rallied over the past week, and a move above the October highs would be very positive. The relative strength (RS) analysis shows that this group has been weaker than the S&P 500 since September but has now turned up from good support. One of the strongest stocks in this group is Smithfield Foods (SFD), which gapped higher on heavy volume on Thursday. A pullback to the gap area between $18.40 and $18.95 would be a good entry area with key support at $17.00-$17.08.
Tom Aspray, professional trader and analyst, serves as video content editor for MoneyShow.com. The views expressed here are his own.