Buy Intel or a Semiconductor ETF?
02/02/2011 10:05 am EST
Focus: STOCKS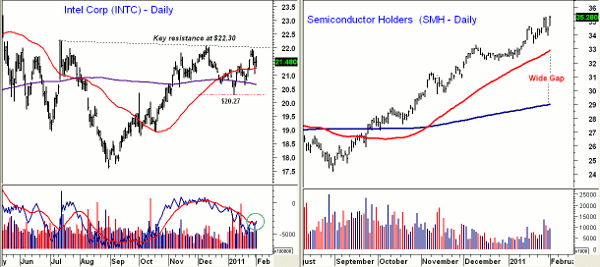 Click to Enlarge
The news from Intel (INTC) about a flaw in their new chip caught the market by surprise. The other chipmakers seemed to benefit from the news as the Semiconductor HOLDRs Trust (SMH) accelerated to the upside. So which is a better buy?
Chart Analysis: INTC pulled back to test the $21 level on the news but bounced on Tuesday as the selling appears to be short-lived.
There is further support at $20.68 and the 200-day moving average (MA) with key swing support at $20-$20.28


The daily on-balance volume (OBV) has moved back above its weighted moving average (WMA) and a weekly close at $21.50 or better will create a bullish set-up in the weekly OBV


The daily chart has strong resistance at $22-$22.30 and a close above this level would be an upside breakout


Longer-term resistance is at $24.40, which is the first upside target if INTC does break out to the upside
SMH has been in a very strong uptrend from the September lows and closed at new rally highs again on Tuesday. The May 2008 highs at $34.03 have been exceeded.
The next strong resistance on the weekly charts is at $37.70, which goes back to September 2007


The 50- and 200-day moving averages are positive with both rising sharply


The spread between the 50- and 200-day MA is the widest in several years, which is consistent with a market that is reaching overbought levels


The rising 50-day MA is at $32.90 with chart support at $32.20


More important support at $31-$31.50


Weekly and daily technical studies are positive for SMH
What It Means: The semiconductor sector overall continues to look strong and INTC is clearly lagging the sector. The ability of INTC to hold up after the bad news is an encouraging sign and this week's close will be important.
How to Profit: Even though the uptrend in SMH is very strong, the risk/reward for new positions is not favorable as the first reasonable stop level would be under $32, or about 9% below Tuesday's close. SMH is likely to consolidate or correct in the next two to six weeks, which may create a better opportunity.
INTC has the potential, given the markets overall strength, to break out above the $22.30 level. I would go long INTC at $20.95-$21.35 with a stop at $19.95, or a risk of approximately 6.5%. If longs are established, then raise the stop to $20.77 when INTC moves above $22.30.
Tom Aspray, professional trader and analyst, serves as senior editor for MoneyShow.com. The views expressed here are his own.