The Right Prescription for Your Portfolio
02/08/2011 10:48 am EST
Focus: STRATEGIES
An important role in keeping your portfolio healthy and growing is managing your profits. On January 18, I took a look at the health care sector because it looked poised to break out to the upside. I liked DaVita Inc. (DVA) and recommended a new long position at $70.66. The stock closed on Monday at $75.96. Now it is time to take some profits on DVA and put them to work in another health care stock.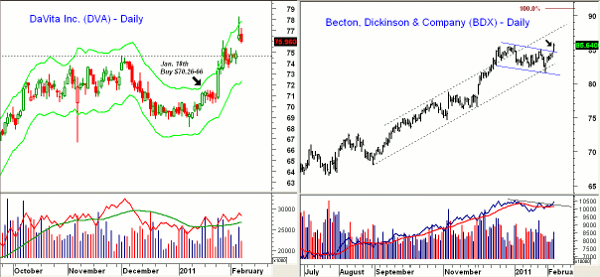 Click to Enlarge
Chart Analysis: The daily chart shows that DVA dropped to a low of $70.26 on January 21 and exceeded the $78 level last Friday. DVA was lower Monday on news of an acquisition.
The upper daily starc+ band was reached Friday and my original target at $75.30 to $76.30 was easily exceeded


The next upside targets are at $81-$82.50


The daily on-balance volume (OBV) is positive but is lagging the price action


Initial support is at $75.50 with stronger support at $73.20-$74.50
Becton, Dickinson & Company (BDX) is a medical technology company and the daily chart shows that it completed a flag formation on Monday. This continuation pattern projects higher prices for BDX.
The upper trend line is now at $87.75 and the chart formation has targets just above $89


If the rally from the recent lows is equal to the rally from the November lows to the early-January highs, then BDX could reach $91


Initial support is at $85-$84.50 and then at $82.40


The low of the flag formation was $81.56, which is the 38.2% support level from the previous rally


The OBV moved through its downtrend, confirming the price action
What It Means: Even though the large cap health care sector has not yet broken out of its trading range, the charts of many of the stocks in the heath care industry look good. After a sharp run, DVA may be ready to consolidate its gains as Friday could have marked a short-term top. The analysis of BDX suggests it is just starting a new move to the upside.
How to Profit: For those who are long DVA from $70.26-$70.66, raise your stop from $67.17 to $72.92—just under the 50% support level. Sell half the long position at $76.66 or better.
For the near term, it looks as though BDX has better upside potential than DVA. I would go long BDX on a pullback to $84.86-$85.16 and place a stop at $80.82 (risk is approx. 5%) if filled at $85.16.
Editor's Note: BDX was trading under my stop at $80.82 as this article was released, so the trade should not have been executed. I will have more on this recommendation later.
Tom Aspray, professional trader and analyst, serves as senior editor for MoneyShow.com. The views expressed here are his own.