Denny's Breaks Out as Restaurants Rally
02/09/2011 9:40 am EST
Focus: STRATEGIES
The Dow Jones Restaurant index is up 4.7% in the past seven days, suggesting that this industry group may start to catch up with the rest of the market. One restaurant stock that I liked last month was Denny's Corporation (DENN), which has just staged a strong breakout. So what should you do with your long position?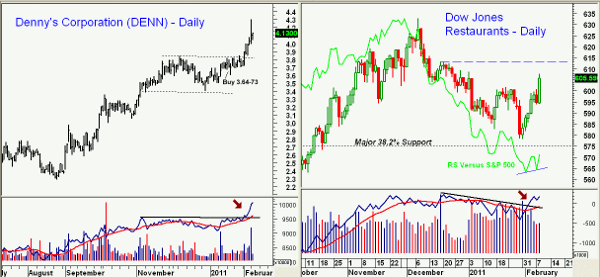 Click to Enlarge
Chart Analysis: DENN moved through the daily resistance at $3.84 at the end of January and has now overcome long-term resistance at $3.99-$4.10 that goes back to 2008. This is positive for the intermediate term.
The major 61.8% resistance is at $4.30 with weekly chart resistance next in the $4.70-$5.00 area


The daily on-balance volume (OBV) has also broken out to the upside and the weekly OBV is still leading prices higher, just as it was last month


Initial support is now in the $4.00 area with stronger support at $3.80-$3.85


There is major support in the $3.60-$3.75 area


Earnings will be released after the close on February 15
The Dow Jones Restaurant group was strong again on Tuesday and closed above the highs from January.
The next important resistance is at 613 and a move above this level should confirm a new uptrend


The December 2010 highs are at 632.6


The daily OBV has moved well above its weighted moving average (WMA) and trend line resistance, which is positive


There is first support in the 590-595 area


The recent correction held well above the major 38.2% support in the 575 area


The relative performance (RS) line has turned up but it is too early to be sure that a bottom has been formed
What It Means: For DENN, the chart is quite positive, and anyone who bought this stock since June of 2008 now has a profit. There are some early signs that the restaurant group has bottomed. From the December 7 highs to yesterday's close, the group is down 4.3%, as compared to a gain of 8.3% by the S&P 500.
How to Profit: I gave two ways to establish a long position in DENN on January 19. Aggressive traders should have bought DENN at $3.64-$3.73 as it traded to a low of $3.60 the next day and held under $3.73 for several days. On longs from $3.73 or better, use a stop at $3.67. Sell half the position at $4.77 and then raise the stop to $3.97.
Alternatively, I recommended that on a close above $4.10, one should buy at $4.04 or better with a stop initially at $3.47. Monday's close was at $4.10, followed by a close of $4.13 on Tuesday, so this order would not have been filled. I would now buy at $4.06 or better with a stop at $3.67.

Tom Aspray, professional trader and analyst, serves as senior editor for MoneyShow.com. The views expressed here are his own.