Two Breakout Oil Services Stocks
02/11/2011 10:07 am EST
Focus: STOCKS
The energy stocks have made up one of the strongest sectors over the past several months, and with the strength in the energy sector, the oil services sector has also done particularly well. The Philadelphia Oil Service Sector Index is up 10.3% so far this year. Lufkin Industries Inc. (LUFK) and Core Laboratories NV (CLB) both broke out to the upside yesterday. How high can these stocks go?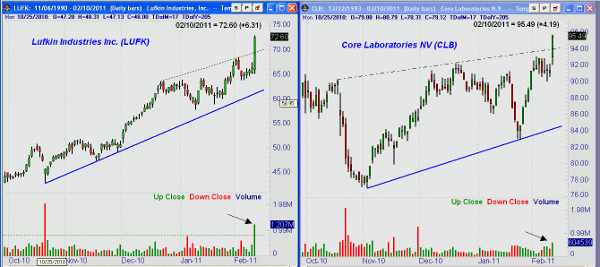 Click to Enlarge
Chart Analysis: Lufkin Industries is a small cap company that specializes in oil field pumping units and it reported on Thursday that net income tripled in the fourth quarter. The stock closed more than $6 higher for the day, which was well above the trend line resistance at $69.30.
Thursday's breakout was confirmed by the highest volume in over three months with on-balance volume (OBV - not shown) confirming the new highs


The daily and weekly chart formations have upside targets in the $77-$80 area


Very short-term support is at $69.30-$70.50 with first daily chart support at $64-$65
Core Laboratories is a large cap company based in the Netherlands that reported positive earnings on Wednesday. CLB completed its three-month trading range on Thursday as it closed well above the trend line resistance at $93.20.
The recent trading range was $13 wide, so the upside targets are in the $105-$107 area with short-term Fibonacci targets at $98


Initial support is at $93.20-$94.50 with stronger support in the $90 area


Volume increased on the breakout and the daily OBV suggests upward acceleration
What It Means: The oil services sector continues to act very strong and these two stocks are clearly two of the strongest. The weekly relative performance analysis turned positive on this industry group in mid-October and still shows that it is outperforming the S&P 500. The breakouts in these stocks do appear to be legitimate, which suggests they could move substantially higher over the next four to six weeks.
How to Profit: Buying stocks following a breakout and earnings release is always difficult because we have to be on the lookout for an equally quick reversal. This makes risk control a determining factor in taking these trades. Though LUFK could drop back to the middle of Thursday's range at roughly $69.30-$69.80 on an intraday pullback before moving higher, the best place for a stop would be below $63.80. CLB does appear to provide a better trade set-up. Aggressive traders should look to buy CLB at $93.90 or better with a stop at $89.74 (risk is approx. 4.4%). If filled, raise the stop to $91.81 on a move above $96.70. Unfortunately, the options in CLB are not particularly liquid.
Tom Aspray, professional trader and analyst, serves as senior editor for MoneyShow.com. The views expressed here are his own.