Two Chip Stocks to Buy
02/22/2011 10:28 am EST
Focus: STOCKS
These small chipmakers have lagged recently, but now look set to join their sector's push higher. Look to buy in at favorable levels.
Developments over the President's Day weekend are resulting in a downward bias in the global stock markets as the new week begins. In light of the positive intermediate-term outlook from both the market internals and volume analysis, this is expected to be a correction in the overall uptrend. Later, I will be updating the tech portfolio I recommended in January and will add these two new chip companies to the portfolio.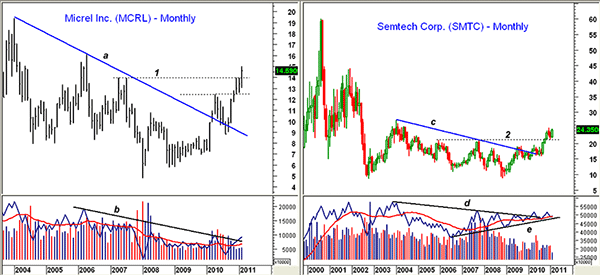 Click to Enlarge
Chart Analysis: Micrel Inc. (MCRL) is a small cap, high-performance semiconductor company that has been rallying nicely from the March 2009 lows. Even though the month is not yet completed, the positive developments on the monthly chart of MCRL indicate it should be a strong performer in 2011.
In early 2010, the long-term downtrend (line a) was convincingly broken


MCRL pulled back to good chart support last summer before overcoming resistance in the $12.50 area in November


The more important resistance just below $14 that goes back to 2007 will be surpassed this month (line 1)


The next major upside targets are in the $19-$20 area


The daily, weekly, and monthly on-balance volume (OBV) are all positive and favor higher prices


There is first good support in the $13.50-$14 area and then next support at $13
Another semiconductor chip company that looks quite positive from an intermediate-term perspective is Semtech Corporation (SMTC). The monthly chart of SMTC appears to show the completion of a major double-bottom formation that goes back to 2002.
The monthly downtrend (line c) was finally overcome in 2010, as SMTC now looks ready to catch up with the rest of the sector


After overcoming major resistance at $21 last November, SMTC has been consolidating


Last week's strong close suggests a new uptrend is likely beginning


Next strong resistance is in the $29-$30 area with further resistance at $37


There is initial support in the $24 area with stronger support in the $23-$23.50 area


A violation of the recent lows at $21.40 would invalidate the breakout


The monthly OBV has been in a solid uptrend since the 2006 lows (line e) with the long-term resistance at line d having been overcome in 2010


Weekly OBV analysis does support the recent breakout
What It Means: As I discussed on February 2, the semiconductor sector looks positive from an intermediate-term standpoint and I recommended buying Intel (INTC). These two smaller companies now look ready to catch up with the rest of the semiconductor sector, as their base formations look quite strong. A correction in the overall market should allow favorable entry points in these stocks.
How to Profit: Clearly, with stocks currently under pressure, these stocks are likely to pull back alongside the rest of the market. MCRL closed a bit lower on Friday and should correct further before the major uptrend resumes. I would look to buy MCRL at $13.93 - $13.62 with a stop at $12.92 (risk is approximately 7.2%).
As for SMTC, though last week's breakout was impressive, I would only buy between $23.66 and $23.32 with a protective stop at $21.84 (risk is approximately 7.7%).
Tom Aspray, professional trader and analyst, serves as senior editor for MoneyShow.com. The views expressed here are his own.