Time to Buy Brazil
03/23/2011 10:40 am EST
Focus: STRATEGIES
The Street and investors are heavily favoring the US over global markets, but some interesting technical signals are now suggesting good buying opportunities in Brazil.
For the past few months, the prevailing wisdom from many on Wall Street was that US investors should buy US stocks and avoid the emerging markets. Inflation fears and rising rates obviously contributed to this view. However, from a technical standpoint, there have been some interesting developments suggesting that a good buying opportunity is at hand for the Brazilian market.
The short-term rebound in the global markets seems to be running out of gas and a lower close today should signal a further decline over the next few days. This should be an opportunity to buy iShares MSCI Brazil Index (EWZ), and the Brazilian oil giant Petróleo Brasileiro (PBR), which recently completed a daily and weekly bottom formation.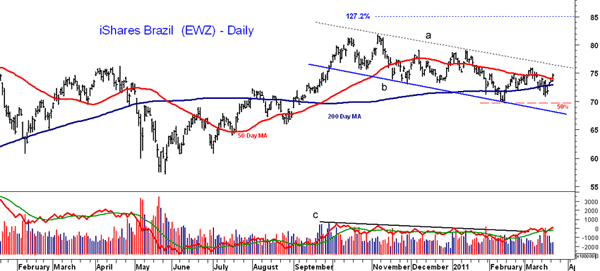 Click to Enlarge
Chart Analysis: In a review of iShares MSCI Brazil Index (EWZ) on January 24 (see "The Two Best BRICs"), I commented that EWZ would look more attractive on a pullback to the $68-$70 area. EWZ made a low on February 10 of $70.10 and rallied up to early March even though the US stock market had turned lower. Many will recall that EWZ bottomed in November 2008 well ahead of the US stock market's bottom in March 2009.
The daily chart shows a well-defined downward trading channel, lines a and b. Trend line resistance (line a) is now at $76.60 and an upside breakout has targets in the $84 area. This corresponds nicely with the 127.2% retracement target just above $85


There is first support at $73 and the 200-day moving average (MA) with the recent lows just below $71. The more important 50% retracement support is at $69.75


The on-balance volume (OBV) had been locked in a trading range (line c) since September 2010 but broke out to the upside in early March. The weekly OBV (not shown) has confirmed the highs for the past two years but is still just below its weighted moving average (WMA)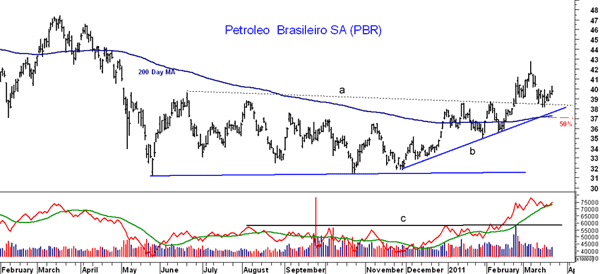 Click to Enlarge
Oil giant Petróleo Brasileiro (PBR) closed decisively above the chart resistance at $38.60 on February 22 amid heavy volume. PBR ran up to a high of $42.70, just exceeding the major 50% resistance level before the recent pullback.
The correction from the highs has taken PBR back to the breakout level. There is converging support now at $37-$37.60, which corresponds to the uptrend (line b), the 200-day MA, and the 50% retracement support


There is a major zone of support now in the $35-$35.80 area that includes the 61.8% support level


We see a very bullish pattern in the daily OBV as it overcame strong resistance (line c) on February 15 and led the breakout in prices by five days. The OBV has just pulled back to its rising weighted moving average, suggesting that the pullback may now be over. The weekly OBV is also strong


Once above the recent highs, the major 61.8% resistance stands at $45 with a band of strong chart resistance in the $47.39-$49.35 area
What It Means: The daily and weekly chart pattern of PBR suggests it has likely completed an important low. Also of note is that PBR accounts for as much as 20% of the holdings of EWZ. The Market Vectors Brazil Small-Cap ETF (BRF) has not yet given clear bottoming signals, though it could in the next few weeks. The bottom line is for those who have little exposure in the overseas markets, Brazil looks like one of the best bets.
How to Profit: As noted in my weekend report, the bounce in May crude oil from support at $96 was positive, and crude oil was strong in early-Wednesday trading. A close above $105 would be the first sign that a rally to the $111 area could occur.
The volume action in PBR also suggests that we may not get a retest of the recent lows. I would go 50% long PBR at $39.46 and 50% long at $38.44-$38.93 with a stop on both at $36.59 (for risk of approx. 6.6%). Sell half the position at $44.77 or better.
EWZ will give you a broader exposure to Brazil as well as some participation in PBR if my analysis is correct. I recommend buying at $72.64-$73.77 with a stop at $69.47 (risk of approx. 5.8%). Sell half that position at $84.62 or better.