One Casino Stock Worth Betting on
03/29/2011 10:59 am EST
Focus: STOCKS
Jittery US consumers may look to tighten discretionary spending, but the charts reveal one overseas casino stock with a hotter hand than two of the industry's major players.
The market will be watching the new numbers on consumer confidence this morning, and most economists are expecting a drop to a five-month low.
The stock market may have been giving an early forecast on the numbers as Marriott International (MAR) and Hyatt Hotels (H) were down over 6% on Monday.
Overseas consumers don't seem to be overly optimistic either as the latest readings on Brazilian consumer confidence saw the largest drop since 2008.
The charts of two of the largest resort and casino stocks, Las Vegas Sands Corp (LVS) and MGM Resorts International (MGM) suggest that consumers are yet not certain enough about their own economic future to be spending money at casinos. However, there is one company that operates casino and resort facilities in Macau that does have more favorable odds.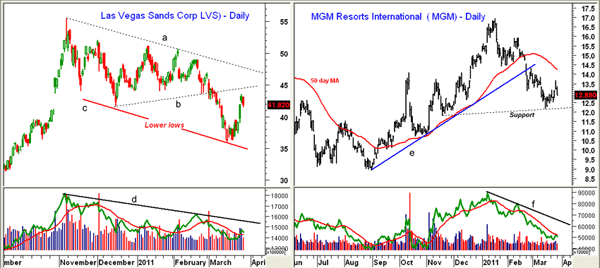 Click to Enlarge
Chart Analysis: Las Vegas Sands Corp (LVS) surged to a high of $55.47 shortly after last November's election and has now established a pattern of lower highs and lower lows (line c).
LVS reached a low of $36.05 on March 15 and has just bounced back to initial resistance in the $43.50-$45 area, line b. The daily downtrend and stronger resistance is in the $47-$48 area


The daily on-balance volume (OBV) is also in a downtrend, line d, and the volume levels on a retest of the recent lows should be watched closely


The long-term uptrend on the weekly chart (not shown) is in the $30 area
MGM Resorts International (MGM) attempted to push above the $17 level in mid-January before reversing course, as it violated the daily uptrend (line e) in the latter part of February while the overall market was topping out.
MGM dropped to a low of $12.15 on March 15 and was down over 28% from the recent highs. There is key support in the $11.80-$12.15 area, and if broken, MGM should decline to the $11-$11.40 area


The daily OBV is in a clear downtrend (line f), but the weekly OBV (not shown) is still holding above major support


Initial resistance is at $13.75 with the declining 50-day moving average (MA) now at $14.15. Stronger resistance is at $14.56-$14.70, which corresponds to the gap on the daily chart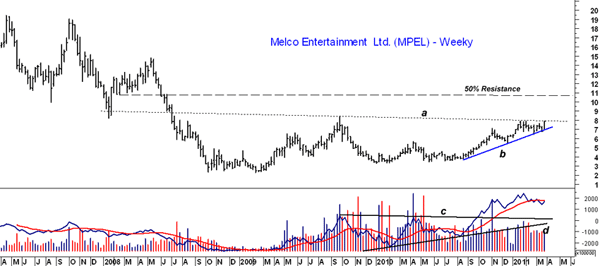 Click to Enlarge
Melco Crown Entertainment (MPEL) is a $4 billion, Hong Kong-based company that operates a group of casinos in Macau. The weekly chart shows a long-term basing formation as MPEL closed on the highs last week. It was a bit lower on Monday, closing at $7.73.
There is major weekly resistance at $8.00-$8.45 (line a) and a strong, high-volume close above this level would be very positive, suggesting a move to the 50% retracement resistance at $10.75


The weekly uptrend, line b, and very strong support are in the $6.90-$7.00 area. Additional support is at $6.20-$6.46


The weekly OBV completed a bottom formation in October 2010 when it moved above the strong resistance at line c. The OBV did confirm the January highs and is in a well-established uptrend
What It Means: It is not hard to understand why consumers have become less confident over the past month given all of the global developments. Economic uncertainty is not a positive for the casino stocks, and vacation budgets are likely receiving much closer scrutiny.
Though the daily technical outlook for LVS and MGM is currently negative, there is not yet conclusive evidence that they have made a major top. MPEL looks like it is completing a significant bottom formation and should be a good buy at slightly lower levels.

How to Profit: For those that are interested in LVS or MGM, keep an eye on the recent lows to see if they hold on the next market decline. This would be a constructive sign.
As for MPEL, I would look to buy at $7.46-$8.28 (risk of approx. 7.6%) with a stop at $6.89. On a move above $8.45, raise the stop to $7.21 and sell half the position at $10.17 or better.
Editor's Note: The buying zone reported should have been $7.28-$7.48. Readers who followed the buy and went long at roughly $7.62-$7.70 should keep their stops at $6.69.