Profit from Flag Formations
Focus: STRATEGIES
Even if you miss a major bottom in a stock or market, spotting flag formations can help you buy in and still enjoy most of the uptrend.
One of my favorite chart patterns is the flag formation. These flags or triangles are most often a continuation pattern, which is an interruption in the dominant trend.
Often, one might miss a stock or ETF that is completing a major bottom or major top. If you understand and are able to identify continuation patterns, you will often be able to find a better risk/reward entry point and catch more of the major trend.
When the flag is formed as an interruption in a major uptrend, it is often referred to as a "bull flag." The formation of a flag formation during a downtrend is therefore known as a "bear flag." Let's look at some past and current examples.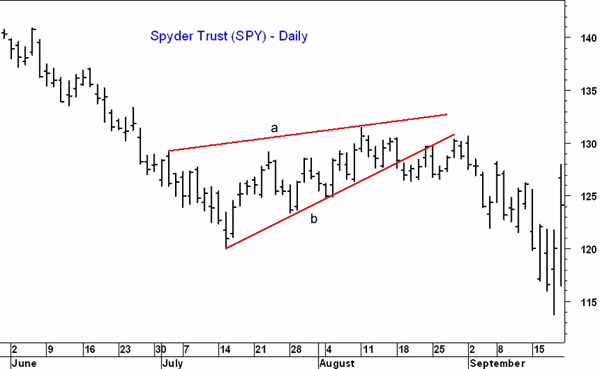 Click to Enlarge
Chart Analysis: In either a bull or bear market, whether you are talking about a stock, ETF, or commodity, it is common to see a series of flag formations.
In the 2007-2009 bear market, there were quite a few "bear flags" evident on the daily chart of the Spyder Trust (SPY) between June and September 2008.
The bear market rally from the March 2008 lows terminated in May, as noted in a recent Week Ahead column.
SPY had dropped from a high of $144.30 to a July low of $120.20 before it started a rebound
After two to three weeks of upward action, an uptrend (line b) could be drawn
After the high on August 11, the flag formation (lines a and b) took shape
Five days later, SPY closed on support (line b) and then closed below it the following day.