2 Cheap Ways to Ride the Shipping Surge
10/17/2011 10:20 am EST
Focus: STRATEGIES
These two low-priced dry shippers are jumping up even as established competitors are flat or down, making them a great addition to the growth end of your portfolio.
The Baltic Dry Shipping Index has surged over 68% since early August, which likely has left some economists, who have been racing to lower their economic forecasts, shaking their heads.
The surge has been attributed to an increase in booking to ship thermal coal, iron ore, and grains through the Panama Canal. Because the number of large ships that can pass through the canal does not change much year-over-year, an increase in shipping rates is often interpreted as a sign of future economic activity.
If this trend is sustained, the profit outlook for the shipping companies is likely to improve. This was reflected in the price action of two low-priced shipping companies, even while one of the more diversified, larger shipping companies continues to lag.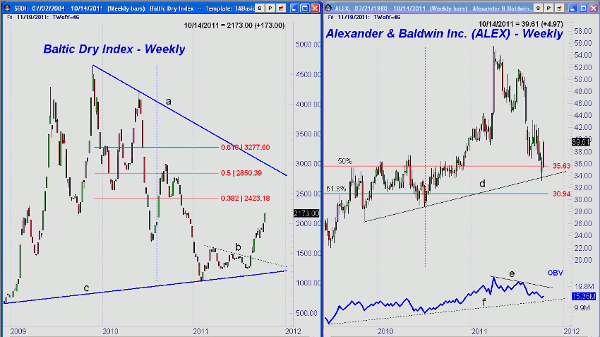 Click to Enlarge
Chart Analysis: The weekly chart of the Baltic Dry Index (BDI) clearly illustrates its volatile nature. After reaching a low in 2009 of 671, it peaked in November 2009 at 4,661.
The secondary peak in May 2010 coincided nicely with an interim top in the stock market. It then formed series of lower lows and lower highs.
In early September, the downtrend, line b, was overcome as a new uptrend (higher highs and higher lows) had begun
The 38.2% Fibonacci retracement resistance is at 2,423 with chart resistance also in the 2,500 area
The major 50% resistance level at 2,850, with the weekly downtrend, line a, now at 2,973. This is the likely target zone for the current rally
The BDI is quite overextended in the short term, so a correction is overdue
There is initial support in the 1,700-1,850 area
Alexander & Baldwin Inc. (ALEX) is a diversified company with interests not only in shipping but also in real estate and agribusiness. Its earnings have been under pressure for most of 2011, as increased fuel prices have weighed on shipping profits.
In a mid-August Motley Fool article, it was picked as a value stock that would outperform the S&P 500. Since August 12, it is down 0.9%, while the S&P 500 is up 3.8%
During the early October plunge, ALEX dropped well below the major 50% support at $35.63 as well as its uptrend (line d). It reached a low of $33.14
The major 61.8% support stands at $30.94
The weekly on-balance volume (OBV) is holding long-term support, line f, but is below its downtrend (line e)
ALEX was strong last week. Next resistance in the $42 to $42.78 area
|pagebreak|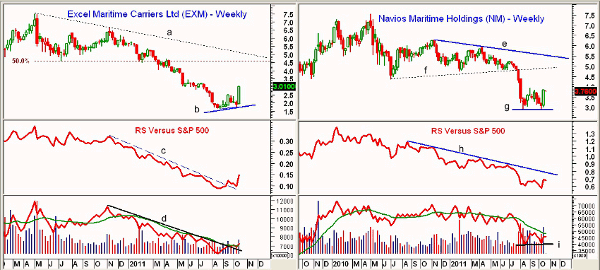 Click to Enlarge
Excel Maritime Carriers Ltd. (EXM) is a $250 million dry bulk carrier that operates worldwide. It closed very strong last week, up 57%. It has already reached resistance from early in the summer in the $3 to $3.78 area.
The major 50% Fibonacci retracement resistance and the long-term downtrend are in the $4.50-4.80 area
The relative performance, or RS analysis has broken a year-long downtrend, line c. It has started a new uptrend
Volume was strong last week, as the weekly OBV has broken its downtrend, line d, and moved above its WMA
The daily OBV (not shown) looks very strong
The weekly chart has first support at the September highs in the $2.50 area, with weekly support (line b) in the $1.80-$2 area
Navios Maritime Holdings (NM) is a $390 million dollar dry shipping and logistics company that is also based in Greece. NM was up 21% last week and also closed on its highs.
The chart shows a potential double bottom formation, line g, with the prior swing high is at $3.94
There is converging weekly chart retracement, lines e and f, in the $5-$5.30 area
The RS line has turned up but is still well below its downtrend, line h
The weekly OBV also shows a potential double bottom formation, line i, but is still below its WMA
The daily RS and OBV (not shown) are both positive
What it Means: It has been my view since early September that the economy was actually stronger than most thought. The Baltic Dry Index is supportive of this view, and technically it should continue to move higher and reach the 2,850 to 3,000 area.
There are no strong signs that Alexander & Baldwin Inc. (ALEX) has completed a bottom, while the two low priced shippers do look positive. These two are clearly for the high-risk part of one's portfolio, so smaller positions are advised. Any positions in these stocks should be viewed more like an option where you could lose 50% or potentially double your money.
How to Profit: Given the sharp rallies last week, trying to buy at about the mid-point of the week's range is a viable strategy.
For Excel Maritime Carriers Ltd. (EXM), go 50% long at $2.58 and 50% at 2.34, with a stop at $1.66 (risk of approx. 32%). Look to sell half the position at $4.42 and raise the stop to $2.58.
For Navios Maritime Holdings (NM), go 50% long at $3.61 and 50% at $3.35, with a stop at $2.79 (risk of approx. 19.8%). Look to sell half the position at $4.92 and raise the stop to $3.18.