Avoid the Rare Earth Stocks
11/14/2011 10:30 am EST
Focus: STOCKS
Though rare earth stocks could become an exciting growth area, weak chart patterns and lagging relative performance analysis indicates that now is no time to be long these shares.
Though the long-term argument suggests there may eventually be a shortage of rare earth metals, the technical action of the key stocks suggests that they are vulnerable to another sharp decline.
Molycorp (MCP), the largest rare earth stock, was hit hard on Friday after reporting its earnings after the close the prior day. Even though the net income was $48.4 million, up sharply from the net loss of $10.1 million in the same quarter last year, earnings per share missed analyst estimates by three cents.
Molycorp also reported that its new Project Phoenix is ahead of schedule, and by the end of 2012, the company should be significantly increasing their production of rare earth oxides. Some fundamental analysts who follow this sector are concerned that this will make the rare earth metals less rare, and therefore, will push down prices.
Technically, the weekly charts suggest that these stocks are likely to test, if not break, the early-October lows.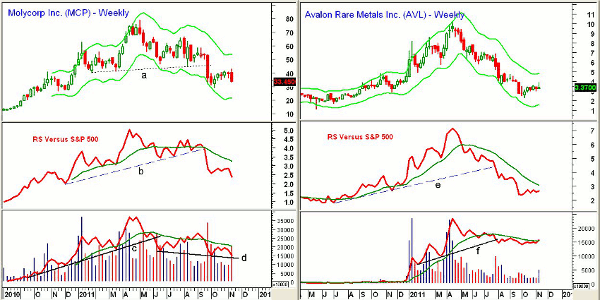 Click to Enlarge
Chart Analysis: The break below strong weekly support in Molycorp (MCP) last summer (line a) triggered a wave of heavy selling that took prices quickly to the Starc- bands and support in the $29-$30 area.

The negative candle formation suggests a test of the recent lows, if not a drop to the weekly Starc- band at $21.45
The relative performance, or RS analysis, broke support (line b) in September, starting a pattern of lower lows
The new low in the RS last week suggests prices will also break below the last lows
The weekly on-balance volume (OBV) broke support, line c, in July. It now shows a pattern of lower lows, line d
The daily OBV (not shown) is negative, as volume was high on Friday
First resistance now stands at $36-$38
Avalon Rare Metals Inc. (AVL) also reversed last week to close on the lows. The stock traded as high as $10.11 in April and has since had quite a slide. It looks as though the rally from the early-October lows is over.
There is next support at $3.00 and then stronger support at $2.29. The weekly Starc- band is now at $1.63
The RS dropped below its weighted moving average (WMA) in early May and then violated its uptrend (line 3) in late July
The OBV has stayed flat over the past several months. It moved back above its weighted moving average last week with the higher close. It should be noted that AVL closed on the week's lows
Volume was not overly heavy on Friday
Initial resistance now stands at $3.75-$3.91
NEXT: Another Sector Leader Heading Sharply Lower
|pagebreak|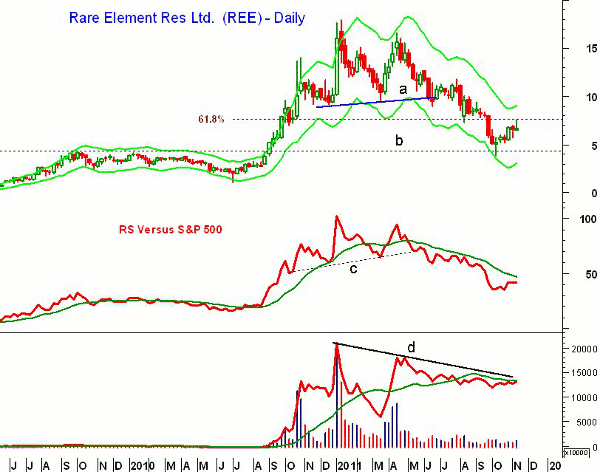 Click to Enlarge
Rare Element Resources Ltd. (REE) closed below weekly support in June, line a. The stock then moved sideways for six weeks before another wave of selling took REE to and then below the major 61.8% retracement support at $7.60.
REE tested long-term support from 2009-2010 in the $4.30 area on the early-October drop
The weekly Starc- band is now at $3.10
The RS analysis confirmed a new downtrend in July when it violated support at line b. It now shows a clear pattern of lower lows and is well below its declining weighted moving average
The weekly OBV has stayed below its weighted moving average since July but has been in a narrow range. There is stronger OBV resistance at line c
There is a strong band of resistance in the $7.50-$9.34 area
What It Means: The weekly analysis of the key rare earth stocks suggests that another sharp decline is likely before year end. Though this could be star sector sometime in 2012, the weak charts and negative RS analysis makes current risk high on the long side.
After such a significant decline, I would expect to see some basing before a significant new uptrend could be formed.
How to Profit: For those who are long any of these three stocks, have stops in place, as a drop below the October lows would not be surprising.