2 Breakout Utility Stocks
06/12/2012 11:10 am EST
Focus: STOCKS
With their attractive yields and solid growth potential, these two utility stocks represent excellent buying opportunities for investors in search of dividends and relative safety.
Stocks charged ahead prior to Monday's New York opening as the S&P futures opened 13 points higher Sunday night in reaction to the news of the rescue plan for the Spanish banks.
The day's high at 1349 was hit in the first 15 minutes of trading and the futures were well below their highs when stocks opened in NY. The weak close on Monday does not change my view that the market is in the process of bottoming, although more choppy trading in the futures and major averages is likely.
Many individual stocks and some sector ETFs have much more positive patterns and their relative performance, or RS analysis, indicates they are outperforming the S&P 500. One sector that is acting well and should be a part of even the most conservative portfolio is the utilities sector.
The technical and seasonal trend analysis early in the year suggested that the Select Sector SPDR - Utilities (XLU) was going to underperform the S&P 500, but this changed in April when its performance for the year turned positive (see chart).
Pinnacle West Capital Corp. (PNW) and Ameren Corp (AEE) have just broken out of significant trading ranges, and buying these stocks on slight pullbacks will lock in yields that are double that of ten-year Treasury notes.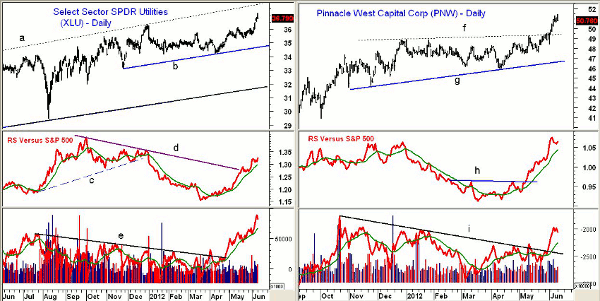 Click to Enlarge
Chart Analysis: The Select Sector SPDR - Utilities (XLU) moved above the May highs at $36.14 last week and surged well above the $37 area on Monday. XLU closed on the day's lows, consistent with a short-term pullback. XLU currently yields 3.87%.
The upper boundary of its trading channel, line a, is now in the $37.70 area with upside targets from the breakout in the $38 area
Daily RS analysis completed its bottom in May when the downtrend, line d, was broken
The RS line is well above its rising weighted moving average (WMA)
The uptrend in the RS line was broken in early December, consistent with the seasonal trend for utilities to top in late December
On-balance-volume (OBV) has risen very sharply over the past six weeks after breaking the nine-month downtrend, line e
There is initial support now in the $36.30 area with stronger support at $35.80-$36
Pinnacle West Capital Corp. (PNW) is a $5.56 billion electric utility that provides electric services in Arizona. The stock has current yield of 4.1% and the dividend has been increasing for over 15 years.
Daily chart resistance in the $49.35 area, line f, was overcome on June 1
PNW hit a high of $51.67 in 2007, and the width of the trading range, lines f and g, has upside targets in the $53.50-$54.50 area
Relative performance completed its bottom formation in early May when the RS line moved through resistance at line h
The RS line is well above its sharply rising weighted moving average
OBV broke through its downtrend, line i, a bit over a week ago
Minor price support is in the $50.20 area with further support in the $49.40-$49.80 area
NEXT: Another High-Yielding Utility with Solid Upside Potential
|pagebreak|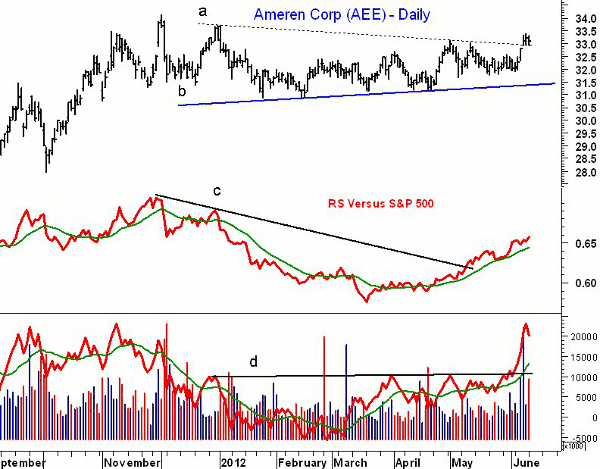 Click to Enlarge
Ameren Corp. (AEE) is an $8.03 billion diversified utility company that operates primarily in the Illinois and Missouri. The stock currently yields 4.80%.
The daily chart shows last week's close above the resistance in the $33 area, line a
The trading range, lines a and b, which has been in effect since late 2011, has upside targets in the $36 area
The major 50% Fibonacci retracement resistance from the 2005 high at $56.77 is now at $38.06
The long-term downtrend in the relative performance, line c, was broken in early May
Volume on the breakout last week was very heavy and the OBV has moved well above resistance at line d
Weekly OBV (not shown) is positive and above its weighted moving average
What It Means: For those looking for yield, the utilities sector is a natural place to turn, and the technical action in these two utility stocks suggests they have appreciation potential that complements their attractive yields.
The Select Sector SPDR - Utilities (XLU) was recommended last year at $34.57 and is up 6.4% since that time. In the interim, it has paid dividends of $0.70, which increases the total return to 8.4%.
I think both of these utilities have equal potential, and both have dividend reinvestment (DRIP) plans, which I think are a great idea. On a personal note, my first stock investment well over 30 years ago was in a utility DRIP program.
How to Profit: For Pinnacle West Capital Corp. (PNW), go 50% long at $50.26 and 50% long at $49.52 with a stop at $47.12 (risk of approx. 5.5%).
For Ameren Corp. (AEE), go 50% long at $32.84 and 50% long at $32.46 with a stop at $30.96 (risk of approx. 5.2%).