Crude Oil: Next Stop $102 or $92?
Focus: COMMODITIES
The sharp reversal in crude oil prices Monday caught regulators' and the market's attention. MoneyShow's Tom Aspray looks at the technical evidence to assess where prices are going, and shares one out of favor oil service company that appears to be bottoming.
The three-minute, $3.60 plunge in Brent crude oil prices on Monday is still being analyzed by the CFTC as well as exchange officials. Don't expect a clear answer, as the most likely cause was thin pre-holiday trading that was exacerbated by option activity.
Investors in oil stocks are obviously concerned, as the S&P Energy index is up 22% from the June lows, which compares favorably to the 15.3% gain in the Spyder Trust (SPY). The SPDR S&P Oil & Gas Exploration ETF (XOP) is up 29.5% during the same period, and many individual oil stocks have done even better.
There were technical signs in July that crude oil had bottomed, and weekly analysis indicates that the intermediate trend is still positive. The daily studies are also positive, but the very-short-term outlook is neutral.
There is one beaten-down oil equipment and services stock that could complete its bottom once the current crude oil correction is over.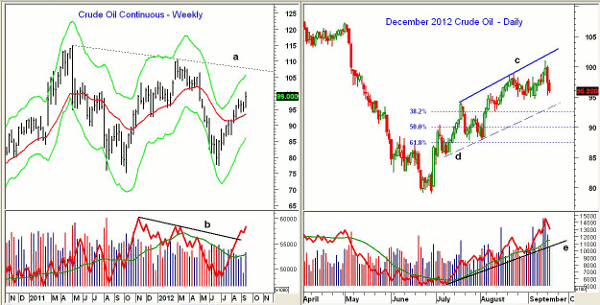 Click to Enlarge
Chart Analysis: The weekly chart of crude oil prices shows that the major downtrend from the 2011 and 2012 highs (line a) is in the $106.50 area.
!--start-->
---