Does MINExpo Signal a Top for the Miners?
09/26/2012 11:25 am EST
Focus: STOCKS
A bigger than ever Las Vegas convention for the mining industry paints a optimistic outlook for the big mining companies, yet MoneyShow's Tom Aspray suggests investors look at the stocks' long-term technical patterns before buying.
On Monday, the MINExpo International trade show began in Las Vegas, and it looks to be a rousing success. There are 1,890 exhibitors, an increase of 45% from four years ago. Based on exhibit space, this year's show is also much bigger, with 860,000 square feet of exhibit space.
Sentiment in an industry is tough to judge, but I do remember a February 2000 trader's show that was much larger and better attended than the previous year. The exhibits were bigger, better, and more expensive, as the urge to trade hit a fever pitch in the dot.com boom. Just over a month later, the Nasdaq Composite peaked at 5,132 (and just recently closed at 3,117).
Clearly some of the mining companies have already been cutting back, as they probably committed to this show several years ago. BHP Billiton (BHP) recently shelved studies for new coking coal mines in Australia. Even though global demand for potash is still high, Brazil's Vale (VALE) has postponed its large potash project in Canada.
Other companies expressed a more bullish outlook, as they think the growth cycle in the emerging markets is just beginning. What does the market think? The longer-term technical patterns for the three largest mining companies may be painting a different picture than the convention.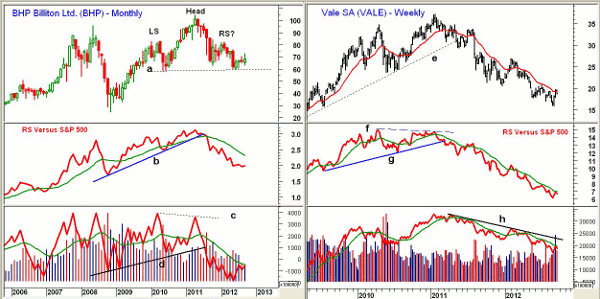 Click to Enlarge
Chart Analysis: BHP Billiton (BHP) is a $181 billion Australian company that has a wide range of mining interests, from gold and gas to diamonds. Its stock made a high in April 2011 of $104.59, which was well above the 2008 high of $95.61.
The monthly chart shows that since 2011, BHP has made lower lows. It hit $62.54 in late 2011, and $59.87 in June.


More ominously, the monthly chart may be close to completing a major H&S top formation, with major support at $58.43 to $59.87 (line a).


The monthly relative performance or RS analysis violated its uptrend (line b) and its WMA in the summer of 2011.


The monthly RS line has continued to make lower lows, and the weekly RS (not shown) is also still negative.


The monthly on-balance volume (OBV) did not confirm the 2011 highs (line c), and this divergence was confirmed by the drop below its long-term uptrend (line d).


There is first strong resistance in the $75 to $77 area, and a close above $82.50 would be a positive sign.


Vale (VALE) is a $93 billion Brazilian mining company that concentrates on the exploration, production, and sale of basic materials. Their stock peaked in 2011 at $37.25, which was below the 2008 high of $44.15.
The weekly uptrend (line e) that goes back to the early 2009 lows was broken in May 2011.


This break confirmed a new downtrend (lower highs, lower lows) and VALE is down 50% from the 2011 highs.


The weekly relative performance did not confirm the early 2011 highs (line f).


The break in the RS line below support (line g) signaled that VALE was underperforming the S&P 500.


The OBV also did not confirm the highs, and shows a well established downtrend (line h).


There is first resistance in the $20 area, with stronger levels now at $22 to $24.


NEXT: Using Multiple Time Frames Can Improve Your Analysis
|pagebreak|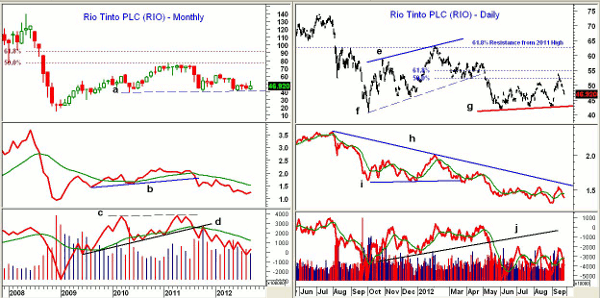 Click to Enlarge
It is always important to analyze a minimum of two different time frames, and three is often better. Therefore, I wanted to take a different look at Rio Tinto (RIO), which is an $86 billion miner and processor of mineral resources that is based in the UK.
The monthly chart shows that the rally from the 2008 low of $14.80 just tested the major 50% Fibonacci retracement resistance from the early 2008 high of $139.66.
Since 2010, RIO has been in a trading range between $39.30 (line a) and $76.67.


One can also make a case that RIO is also forming a H&S top. The narrow range over the past four months could set the stage for a wave of heavier selling.


The monthly relative performance made lower highs in 2010 and 2011, and then broke support (line b) and its WMA. It is acting weaker than prices.


The monthly OBV formed a negative divergence at the 2011 highs (line c), then broke support (line d).


The OBV rallied back to its WMA in 2011, which was a negative sign.


The first monthly resistance is at the September high of $53.90


The daily chart shows that the rally in early 2012 just tested the 61.8% Fibonacci retracement resistance from the 2011 high.
The flag formation (lines e and f) was a typical continuation pattern.


This pattern was completed with the down gap opening on May 3, as RIO dropped to a low of $41.59. This was a decline of 34% from the early 2012 highs.


This month's rally peaked at $53.90, which was just below the 61.8% retracement resistance at $54.94.


The daily chart shows important support in the $41.59 to $42.81 (line g). A break of this level will turn the focus on the monthly support.


The daily relative performance broke support in March (line h) after forming lower highs.


The daily OBV confirmed the break of support in May as it also broke its uptrend (line j). It has now just dropped back below its WMA.


What it Means: The longer-term analysis of these three mining stocks continues to deteriorate, which makes a break of major support look more likely. Monthly head-and-shoulders top formations are not that common, and the completion of the H&S top in the homebuilders led to a multi-year decline.
Of course, a serious decline in these economically sensitive stocks could be implying more economic trouble ahead.
If you are long these stocks, be sure to have your stops in place. If my key support levels are violated, be sure to get out.
How to Profit: No new recommendation
If you are interested in seeing more examples of multiple time frame RS Analysis, see my recent Trading Lesson, Spot Market Leaders in Any Time Frame