Charts Can Warn of Earnings Misses
10/09/2012 10:50 am EST
Focus: STOCKS
Will this week's earnings reports confirm the prevailing view of a deteriorating economy? And what action should you take before your stock reports earnings? MoneyShow's Tom Aspray suggests some simple steps and weighs in on three companies that report this week.
Last Friday's late reversal in the stock market led to more light selling in Monday's reduced holiday trading. More gloomy forecasts on the economy from the IMF hit the financial press Tuesday, as they warned "Risks for a serious global slowdown are alarmingly high."
This adds to the investor nervousness as we start the earnings season. Alcoa (AA) customarily kicks off earnings after today's close.
No matter what financial press you may read or TV channel you may watch, there is clearly a divergence between stock prices and the prevailing view of the economy. I discussed this in more detail last Friday.
This does not make the decision any easier for those investors whose companies are scheduled to report earnings in coming weeks. Do you sell before the earnings in fear of an earnings miss, or hold on to the stock in the hope that the report will exceed investor expectations?
I would argue that even the most basic technical analysis can give you a better chance of making the right decision than hope or fear. An interesting example is the widely held Kinder Morgan Energy Partners (KMP), which a leading Web site noted in July " has missed analyst estimates for four quarters in a row."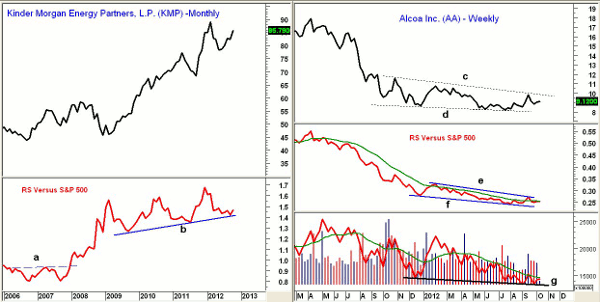 Click to Enlarge
The earnings misses started during the second quarter of 2011, as KMP closed on July 30, 2011 at $70.49. With KMP's close Monday at $85.79, it has gained 21.6% over the past 14 months.
A look at the monthly chart of KMP shows that it has continued to make higher highs and higher lows since November 2009, when KMP moved above the 2008 highs. It would take a drop below the May 2012 low of $76.65 to change the major uptrend.
For those who want to do more detailed analysis, I favor relative performance, which compares a stock's performance to the S&P 500. Stocks that are weaker than the overall market tend to be sold more heavily when they miss earnings than those which are acting stronger than the market.
The monthly relative performance analysis of KMP shows that it has formed higher highs and higher lows (line b) since it completed a bottom formation in 2008 (line a). A change in this pattern would warn of a future price decline.
So what about this week's earnings—are there any stocks you should be selling before they report?
Chart Analysis: The outlook for Alcoa (AA) has not changed much in 2012, as the weekly chart shows the sharp slide in prices from March through December 2011.
The weekly close only chart shows a pattern of lower highs (line c) and lower lows (line d).


The key resistance is the mid-September high of $9.93. A close above this level would be a positive sign.


Conversely, a weekly close below the July low of $8.22 would reinforce the downtrend.


The relative performance shows a pattern similar to prices, as it has made lower highs (line e) and lower lows (line f)


The weekly on-balance volume (OBV) has been below its WMA since March, and has also formed lower lows (line g).


The daily analysis (not shown) does look more positive, as there was a nice surge in volume in early September.


On the daily chart, there is short-term support at $8.72, which if broken should signal a decline to the $8.50 area.


NEXT: Will Thursday Bring Good News for These 2 Stocks?
|pagebreak|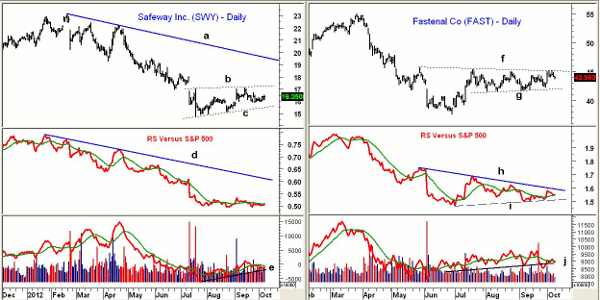 Click to Enlarge
Safeway (SWY) reports earnings on Thursday. The average analyst's estimate is for a 13.2% rise over their earnings from a year ago.
The daily chart shows that SWY has been in a trading range (lines b and c) since July. Given the sharp slide from the February high of $23.16 (a loss of 29.4%), this is likely a continuation pattern or a pause in the downtrend.


There is initial support at $15.86, followed by $15.50.


A break of support (line c) will project a decline to the $13.50 to $14 area.


The relative performance has traded in a tight range since July, and shows a long-term downtrend (line d).


The daily OBV is below its WMA, but is barely holding above support (line e).


Watch for an increase in volume if SWY weakens ahead of the report.


Fastenal (FAST) is a $13 billion construction supply company that also reports its earnings on Thursday. The earnings are expected to be flat, and a couple of analysts have recently lowered their estimates.
FAST has also been in a tight range since July, with resistance at $45.22 (line f) and support at $41.54 (line g)


A break of support has downside targets in the $37.50 to $38 area.


The recent action reflects that FAST has certainly not been a market leader, as the daily RS analysis has formed lower highs (line h).


A break of relative performance support (line i) could precede a break of chart support.


The daily OBV violated support (line j) in late September. It has since rebounded, but still looks weak.


The weekly studies (not shown) are negative.


What it Means: There has been little technical reason to be long Alcoa (AA) in 2012, but given the overwhelming negative sentiment, a positive surprise would not be surprising. Until it shows signs that it is a market leader, like it did in 2010 and 2011, I would avoid AA.
Both Safeway (SWY) and Fastenal (FAST) have been acting weaker than the S&P 500 or Spyder Trust (SPY) over the past few months. Because of the sharp declines early in the year, the recent trading ranges favor a downward resolution, and I recommend not holding these stocks through earnings.
How to Profit: No new recommendation.