Don't Give Up on Apple or Tech
Focus: STOCKS
As the technology sector and Apple continue to drop, MoneyShow's Tom Aspray points out the seasonal and technical patterns that suggest investors should be looking to buy, not sell.
Stocks gave up most of their early gains on Thursday, which for the short term makes Friday's close more important. The market internals were stronger than prices: on the NYSE, 63% of stocks advanced and only 32% declined.
The Nasdaq-100 has borne the brunt of the selling since the September highs, as it has declined 5.5%, versus just a 3.4% decline for the Spyder Trust (SPY). The Nasdaq-100 had outperformed the SPY since the June lows.
Of course, Apple (AAPL)—which makes up close to 20% of the technology heavy Nasdaq-100—has dropped even further. From the September highs, AAPL is down 11.6%...but one must remember that from the May lows to the recent highs, it had gained over 35%.
The bearish sentiment on AAPL is increasing, but those on the short side should be aware of Apple's 30-year seasonal tendency to bottom in October. Does anyone really think Apple products won't be on the top of most holiday buy lists?
Knowing this, is the recent correction unusual? In 2010 and 2011, AAPL corrected 15.8% and 14.8% respectively from its highs, before resuming its uptrend to close the year near its highs. Identifying key support for AAPL and the tech sector will allow investors to develop a sound buying strategy for this correction.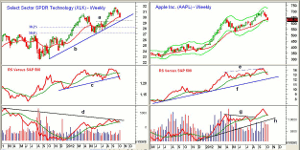 Click to Enlarge
Chart Analysis: The Select Sector SPDR Technology (XLK) peaked at $31.74 in September, and has now corrected 5.7% from the highs.
!--start-->
---