Two Paths for Precious Metals
Focus: ETFs
Precious metals have enjoyed multi-year bullish trends, which made last week's shakeout unnerving for some. MoneyShow's Tom Aspray examines the charts and offers advice on your next moves.
The tone in the precious metal markets has changed in the past week as increasing volume suggests the sellers may now be taking charge. The first sharp drop came on November 28 when over 480,000 contracts changed hands as gold lost 2%. This reversed some of the positive momentum from the previous Friday when the February gold futures closed at their highest level since mid-October.
Another wave of selling hit the futures early Tuesday morning when global trading was extremely thin. The futures lost $10 in a minute and over 3,000 contracts traded at 12:47 AM ET as the February futures contract cracked the $1,700 level.
This occurred when even the US and European traders were mostly absent. Another wave of selling hit the market as the US market opened Tuesday with the February contract dropping 1.5% to close at $1,695.80.
Some are assuming that Tuesday's drop was tied to a large bearish option trade last week and those buyers picked a particularly thin period of trading to move the markets in their favor. Others think that the selling was tied to fears over the fiscal cliff as traders took profits now to avoid what may be higher taxes on their profits next year.
Whatever the reasons, the high-volume selling needs to be respected as it increases the chances that gold and silver will test, if not break, below their November lows. A technical look at gold, silver, and the silver mining stocks outlines the two most likely paths for the metals this month.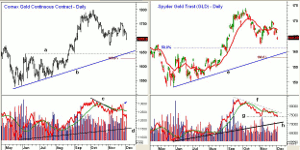 Click to Enlarge
Chart Analysis: The close Tuesday in the gold futures was below the last two swing lows at $1,707 basis the February contract.
!--start-->
---