Does Size Really Matter?
Focus: STRATEGIES
A popular strategy, sector rotation involves choosing winning sectors from the broad market and tilting your portfolio towards them. As we start a new month, MoneyShow's Tom Aspray takes a technical look at which sectors are poised to outperform.
Stocks corrected for the second day in a row, but once again the losses were small though most of the major averages did close below Wednesday's lows. Of course, the wild card is Friday's monthly jobs report. The ADP report came in well above estimates at 192,000.
If the jobs report is weaker than expected, it could cause some heavier selling but I would expect the market to be well supported at lower levels. In fact some heavier selling could be a plus as it would help to reduce the rising bullish sentiment.
In the last Week Ahead column, I discussed the seasonal tendency for the stock market to decline in February. So far, we do not have any sell signals but there are some signs that there has been a loss of short-term momentum.
I continue to think that now is the time to be cautious and work on your buy list as there should be a better buying opportunity in the next month or so.
So should you be looking at the large cap, mid-cap, or small cap stocks for your buy list?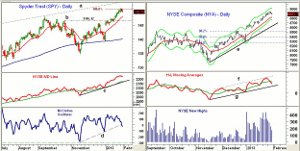 Click to Enlarge
Chart Analysis: The Spyder Trust (SPY) exceeded the equality or 100% target this week at $150.70 with the trend line resistance, line a, now at $152.40.
!--start-->
---