LVS & YUM: 2 of China's Winners or Losers
03/17/2014 10:30 am EST
Focus: STOCKS
With the stock market already jittery from current geopolitical turmoil, MoneyShow's Tom Aspray takes a technical look at some US companies who have a lot riding on China's continued growth.
The week is starting off on a more positive note as while the Asian markets were mixed, stocks in Europe are showing solid gains in early trading. The outcome of the Crimea vote was pretty much predetermined and the technical outlook discussed on Friday did favor a rebound this week.
If the futures can hold their gains into the close, then typically, stocks will rally further into the middle of the week. The volume and market internals need to be very strong on a rally to reverse the deterioration from last week. For the S&P 500, there is initial resistance in the 1855-1860 area but it will take a close above 1875 to make those on the short side nervous.
The weak economic data out of China has continued to weigh on the market as the recent bond default has made more wonder if the Chinese economy is really that fragile. The key numbers from China will come out next Sunday night when we get the HSBC Manufacturing flash PMI.
In reviewing recent filings, these four companies stood out for the percentage of their revenue that comes from China. Because of this, they are likely to get the attention of both bullish and bearish investors.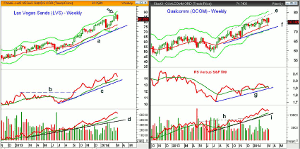 Click to Enlarge
Chart Analysis: Wynn Resorts (WYNN) and Las Vegas Sands (LVS) reportedly get 73% and 64% respectively of their revenue from their gambling operations in Macau. It is a favorite destination for Chinese gamblers. Revenues have dropped slightly in early 2014.
Qualcomm (QCOM) is a leading producer of cell phone chips that had 49% of its sales from China as of the end of 2013. They have had some regulatory issues in China recently but the company expects to benefit when the country changes to 4G LTE networks.
NEXT PAGE: 2 More China-Dependent Stocks
|pagebreak|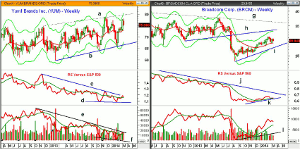 Click to Enlarge
Yum! Brands Inc. (YUM) is the well-known operator of KFC, Taco Bell, and Pizza Hut in China. Their financials indicate that they receive 37% of their revenues from China.
Broadcom Corp. (BRCM) is a semiconductor provider for both wired and wireless communications. They receive 32% of their revenue from China.
What It Means: The sentiment on China is decidedly negative and the key China ETFs also still look negative technically. I am less pessimistic longer term but we need to see positive signs before buying the ETFs.
Of the four stocks, YUM! Brands (YUM) looks the most promising, especially basis the relative performance analysis. A tight stop will need to be used as it is quite volatile.
How to Profit: For YUM! Brands (YUM), go 50% long at $74.14 and 50% at $73.52, with a stop at $71.39 (risk of approx. 3.3%).