Hot Market Portfolio Strategies
05/13/2014 10:20 am EST
Focus: STOCKS
In the current choppy market environment, MoneyShow's Tom Aspray counsels vigilance and diligent management of your existing positions as he illustrates how he does it in the model portfolio.
The week started off in impressive fashion as the broadly based NYSE Composite closed well above the April highs with very strong readings from the market internals. The NYSE Advance/Decline has also turned sharply higher confirming the price action. The completion of the trading range has targets well above 11,000.
The Spyder Trust (SPY) did make a new closing and intra-day high. The width of its trading range projects a move to the $196-$198 area, which would likely be enough to convince the remaining bears that they are on the wrong side.
The yields on the 10-year T-note also rose as it seems those who have been piling into bonds are questioning how much lower yields can go. In Friday's Week Ahead column I focused on the technical outlook for the bond market and expressed my opinion about a new bond bull market.
The US futures are higher in early trading as the market waits for the Retail Sales report, which may be what the Consumer Discretionary sector needs to move it sharply higher.
A review of the Charts in Play Portfolio (The link to updated portfolio is on page 3.) shows that it has done pretty well during the choppy action of the past month as a number of large-cap high-yielding stocks and ETFs have been added to the portfolio.
I continue to favor this asset class and would not be chasing the momentum stocks. A review of some of my recommendations may help you better understand how I manage a position once it has been established.

Click to Enlarge
Chart Analysis: Alcoa Inc. (AA) finally started to turn the corner last fall and has almost doubled. It was up 4.23% on Monday.
I missed the first major rally phase as I failed to find a good entry point until February.
AA had was testing its weekly starc+ bands (see arrow), so I looked to buy a pullback.
My 1st entry level at $10.86 was hit (point 1) and the rally soon resumed.
The weekly relative performance had completed its bottom formation by moving through its resistance at line b.
The RS line still shows a strong uptrend and remains a market leader.
The OBV moved above its WMA last September and broke its downtrend, line d, in October.
The OBV is still well above the support at line e.
I sold 1/3 of the position in March at $11.80 as the month-long sideways pattern made me cautious.
As I mentioned in my 3 Transport Picks Ready to Breakout, the GATX Corp. (GMT) was "a $6.40 billion company that rents and leases transportation equipment. This includes both railroad, as well as shipping of dry bulk commodities. It was yielding 2.39%."
The Transportation sector has been a favorite all year as it was a bet on an improving economy.
The initial buy level at $51.58 was hit six days later on January 22 and the stock surged the following day.
The recommendation was based on the bullish weekly studies as a completion of the flag formation projected a move to the $65-$67 area.
The daily relative performance did not start to weaken until early April as support at line f, was broken.
The volume surged with prices in late January and the OBV stayed above the uptrend, line g, until early April.
I recommended selling 1/3 of the position on 2/21 (point 1) at $63.32 for a 22.7% profit.
Another 1/3 was sold at $67.53, which was the target zone from the flag formation.
The remaining 1/3 of the position was stopped out at $63.83 (point 3).
NEXT PAGE: A Hit & a Miss
|pagebreak|
In the middle of February in 2 Off-the-Radar Picks, I noted that the DJ US Construction & Materials Index (DJUSCN) had become a market-leading industry group.
One of my picks was the Tutor Perini Corporation (TPC), which is a $1.07 billion heavy construction company that is also based in California.
The stock had hit its weekly starc+ band in December, and by February, was back to its starc- band when it was recommended.
The stock was also back to converging long-term support (lines a and b).
The initial buy level was hit the day it was recommended as the buy levels were tweeted before the opening.
Both the RS and OBV had confirmed the prior highs and had just pulled back to support.
The RS line has just made a new high with long-term support at line c.
The RS analysis had completed its bottom formation last November (see circle).
The on-balance volume (OBV) continues to act strong as it moved back above its WMA in early March.
The next upside target is the monthly projected pivot resistance at $33.17 where I will look to take some profits.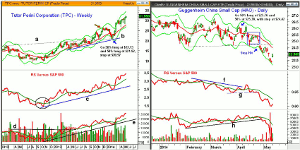 Click to Enlarge
The Guggenheim China Small Cap (HAO) was recommended in early April as I was looking for a pullback after it tested its daily starc+ band.
At the time the daily RS line was back above its WMA and was breaking its short-term downtrend.
The pullback was stronger than expected as the low on April 15 as $24.62 was quite close to my stop at $24.42.
HAO subsequently rebounded back to its declining 20-day EMA (see square).
This was a good opportunity to get out of the trade, but I missed it as the RS line has already dropped back below its WMA.
The daily OBV did not break its support, line h, until HAO gapped through support on April 28.
The stop was then hit for a 4.5% loss.
HAO hit a low of $23.31 last Friday and then gapped to the upside on Monday.
What It Means: In spite of Monday's action, I think now is a good time to raise some stops and also to find some new profit taking levels. Guggenheim China Small Cap (HAO) is a good example of why it is important to close out a position if it fails to act as you expect.
For new stops and profit-taking levels on AA and TPC, see the portfolio page.
For new positions, I like two diversified plays. First is the SPDR S&P Retail (XRT) where the OBV has just broken out above the February highs. It was up sharply Monday and contains 104 retail stocks.
I also like the beaten-down SPDR KBW Regional Bank ETF (KRE), which at last week's lows had corrected 12.7% from its March highs.
How to Profit: For SPDR S&P Retail (XRT), go 50% long at $84.44 and 50% at $83.58, with stop at $79.42 (risk of approx. 5.4%).
For SPDR KBW Regional Bank ETF (KRE), go 50% long at $38.56 and 50% at $38.14, with stop at $36.96 (risk of approx. 3.6%).
NEXT PAGE: The Charts in Play Portfolio
|pagebreak|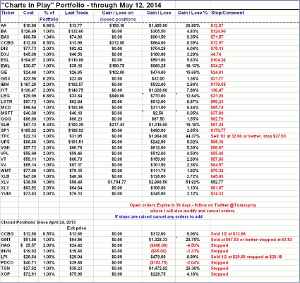 Click to Enlarge