Biotech Crash—How Long Will It Last?
03/26/2015 10:15 am EST
Focus: STOCKS
The sharp drop in biotechnology stocks has some investors worried, but MoneyShow's Tom Aspray reviews the technical and seasonal data to develop a strategy for a leading biotech ETF as well as two leading biotech stocks.
The market croaked Wednesday as the very weak Durable Goods report gave investors more reasons to sell. The biotech and semiconductors bore the brunt of the selling as both were down over 4% on the day. The market internals were 3-1 negative but not bad enough to suggest that the selling is over.
A weaker than expected final reading on 4th quarter GDP Friday could give investors more reason to sell. This week will add a few more bricks to the wall of worry that I discussed in Friday's Why Building the Wall of Worry Is Bullish. Wide swings in the Durable Goods are common as it was down 3.7% in December but up 2.8% in January, so the 1.4% drop in January is not a reason to turn negative on the economy.
So, what's next? The S&P futures are down again in early trading as they are getting closer to next support in the 2020 area. Many are watching the March lows so they may need to be broken before the pullback is over. The new weekly highs in the NYSE A/D line do not yet warn of a major correction as I noted in Tell Tale Signs of a Correction. The daily A/D lines are at or below their WMAs with key support at the February lows.
The biotech stocks are now getting much of the attention as some are wondering if the multi-year run in this market leading group is over. In 2014, the biotech stocks topped in February and the ensuing decline shook many out of this volatile sector before a 70% rally.
So, what about this year? How far will a leading biotech ETF drop and how long will the decline last? Let's take a look.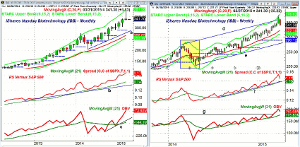 Click to Enlarge
Chart Analysis: The monthly chart of iShares Nasdaq Biotechnology (IBB) shows a potential reversal in March after it reached a high of $374.97, which was just below the starc+ band at $381.58.
On the weekly chart of iShares Nasdaq Biotechnology (IBB) I have highlighted the correction that occurred in 2014.
Next: Two More Biotech Stocks to Watch
|pagebreak|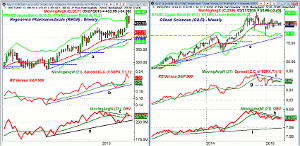 Click to Enlarge
Regeneron Pharmaceuticals (REGN) moved above its WMA two weeks ago before reversing this week.
Gilead Sciences (GILD) held up better than most biotech stocks on Wednesday as it was down just 1.55%.
What it Means: I would look for the correction in iShares Nasdaq Biotechnology (IBB) to be shorter than it was in 2014, maybe only six weeks.
Would look for signs of a panic low in the $318-$322 area but it could get down to $310.
For Regeneron Pharmaceuticals (REGN), the support in the $420-$425 area is likely to hold, which is over 6% below current levels. I would not want to see a close below $383.
I expect the selling to increase in Gilead Sciences (GILD) before the correction in the biotech sector is over. This is because of the weak readings of the technical studies as it has not been a market leader since December. Celgene Corp (CELG) and Illumina, Inc. (ILMN) also look vulnerable.
How to Profit: No new recommendation.

Due to unforeseen circumstances, there will not be a Week Ahead column on Friday, March 27, but publication will resume on April 3.
Here are some of Tom's most popular recent articles:
The Best of Barron's New Year Picks
The Nasdaq 100's Most Overbought