Watching for Trend Changes in Forex Charts
01/27/2010 12:01 am EST
Focus: FOREX
With expectations of USD strength in 2010 by many analysts, it might be a good time to look at what a trend change looks like on a chart. The current EUR/USD daily chart shows a good example of what to look for to determine when a market changes from an uptrend to a downtrend.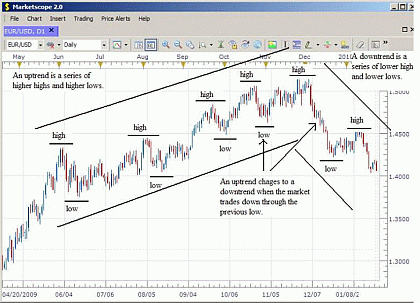 Click to Enlarge
First of all, we identify an uptrend as a series of higher highs and higher lows. The first part of the chart shows a classic uptrend where the highs and lows look like a staircase moving up. With every pullback down to a support level, buyers were getting into long positions (buying) to ride the trend up for as long as possible.
In December, we saw the change where the market moved down through the previous low for the first time and has since printed a lower high and a lower low. That is a downtrend. But it is the point where the trend changes that causes confusion, and this chart shows what that change looks like. An uptrend changes to a downtrend when the market trades down through the previous low as noted on this chart. When looking for a trade, the first step is to find the strongest uptrends and look for buying opportunities, or find the strongest downtrends and look for selling opportunities.
With experience, you will eventually want to take advantage of these trend changes to enter into a trade with the new trend. This is how professional traders are able to get in early on a trending move and ride the trend for a long period of time, moving their protective stop with the market to protect any gains.
This is a daily chart, but short-term traders will look for the same activity on hourly chart to take advantage of the shorter-term trends. The key for short-term traders is to trade in the direction of the daily trend to make sure they are trading with the momentum of the market and not against it.
By Thomas Long of DailyFX.com
DailyFX provides forex news on the economic reports and political events that influence the currency market.
Learn currency trading with a free practice account and charts from FXCM.