EUR/USD Pair Shows Unique Pattern
04/29/2010 12:01 am EST
Focus: FOREX
The EUR/USD forex pair has been respecting dominant Andrews pitchfork trend channels both on the way up, and on the way down. It serves as an educational example and current reference levels for areas to watch going forward.
Current EUR/USD Daily Chart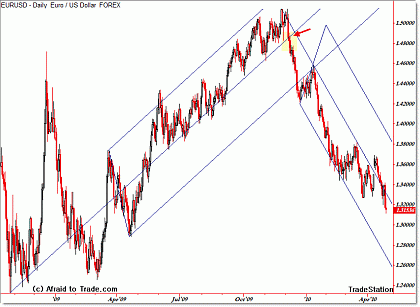 Click to Enlarge
The first pitchfork on the way up began with the October 2008 low and moved to the March 2009 high (as drawn), then the April 2009 low. The resulting auto-trend lines emerged from the default Andrews pitchfork tool.
Price bounced between the midline and upper "tine" line throughout 2009, but sharply broke under the median line in December 2009, which indicated a potential reversal in trend.
The trend did go ahead and reverse, breaking under the lower tine trend line, also in December 2009, as price rallied to test the underside of the lower trend line in January, granting an excellent low-risk short sale trade setup.
The trend did reverse, and so we draw a new Andrews pitchfork heading down as illustrated (using an advanced method of using the Median Line on the January swing high instead of the default tool).
This drew three trend lines heading lower, and price has bounced between these trend lines as drawn, save for a gap above the line in April, which sent price right back below the Median Line shortly thereafter.
Unless we see another rise above the Median Line—roughly at the 1.32000 level—then we would expect the pair to continue trailing lower to the 1.3000 level or beyond, depending on what the fallout continues to be from the European debt problems (Portugal, Spain, Greece, etc).
Play around with the pitchfork tool if your software program allows it (most do, even StockCharts.com) and don't be afraid to think outside the pitchfork…I mean, box!
Remember, at the end of the day, the Andrews pitchfork tool is really just an auto-trend line tool.
By Corey Rosenbloom of AfraidToTrade.com