Is Your Forex Broker Playing with Your Quotes?
08/05/2010 12:01 am EST
Focus: FOREX
In my experience of teaching numerous students of the forex markets, I have pretty much heard every excuse in the book as to why they have lost money. With complete novice traders, their financial losses are usually down to a lack of decent trading education. They simply don't know what they don't know and have yet to fully understand how the large void between their perceptions of the market and the actual reality of the market really is. However, I also meet many traders who have been attempting to tackle the world of forex for years, claiming that they have the know-how, understand the technical and fundamental arts of analysis, but are still failing to make decent returns and protect their capital. Sometimes they blame it on a book they read, sometimes it is because of their account size, and mostly the excuse is just down to the market. What I am saying is that with the vast majority of painful trading stories I hear, everyone and everything else is usually to blame for their misery.
On occasion, the culture of blame also extends to the forex broker or dealer with whom they hold their trading account, and within the overall world of market speculation, forex brokers, as a whole, have been given a bad name. Some say that forex trading is the "wild west" of the financial industry, where the dealer is always looking to profit from their client's accounts, and given the chance, will happily hunt stops and take a speculator out of a position in the blink of an eye. My job as an educator, mentor, and writer is to remain objective in these matters at all times, just as I am when I carry out my trades. However, while I maintain my objectivity at all times, this does not mean that I don't have an opinion either! Let me explain.
When an individual is trading the forex spot market, they need to be aware that this is a relatively unregulated market in that all forex broker price quotes are derived from the interbank forex market. As individuals, we are just too small to get involved with these major forces of the market, so the forex broker, in essence, sets up an environment for the speculative spot trader to participate in. While this is a great opportunity for us to get involved in the currency markets, the astute trader also needs to understand that due to the dynamic of retail prices being quoted based on the interbank pricing system, we have what results in a series of "mini satellite" markets that the various forex brokers and dealers have created. Because there is no actual central marketplace like the NASDAQ or CME, forex traders are participating in an unregulated market. This scenario has created various problems over the years for traders, with many "cowboy" forex firms setting up trading environments without the proper financial backing or liquidity to guarantee their customer's accounts will be safe.
In recent years, however, these smaller maverick firms have been taken out of the picture, with much stricter financial regulation and rules implemented to secure a safer arena to trade for individual speculators and investors. Today, we have forex brokers who have solid capital behind them and offer segregated accounts for their clients to ensure that our money is safe even if the dealer goes bankrupt. There is also a higher level of competition between firms for business, with each looking to provide the very best spreads, execution, and charting for their account holders. And why not when you consider that each time someone enters a trade, the forex broker will profit on the spread, it is easy to understand that they have to do very little but provide a great service to the traders on the their books and make some very easy money. They profit continually on the spread, while the losers pay the winners in the background. I have traded forex spot for years now and have felt very little manipulation going on with my trades. If I did have issues with my broker, then I would simply walk.
I am sure that from time to time, it may feel that you have been taken out of a trade maliciously by your forex firm, and I would expect that there are still some desks out there that engage in this activity from time to time, but in my experience, I have found that the individuals who complain the most are typically the ones who are also losing the most money in the market. Back to our blame culture example! Remember that in reality, no broker can move the market in one direction or the other. The only time they could take you out of the market is when the price is near to your order and they could widen the spread to capture your bid or ask. With this in mind, I recommend my students get access to a number of charting packages, so they can check their own broker's prices against others in the event of a dispute.
Here are three examples:
Article Continues on Page 2
|pagebreak|
Figure 1

Click to Enlarge
Figure 2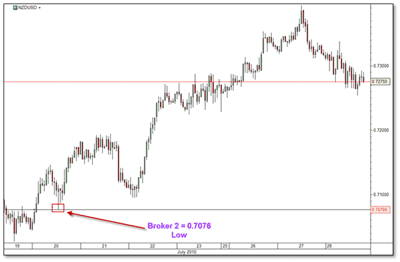 Click to Enlarge
Figure 3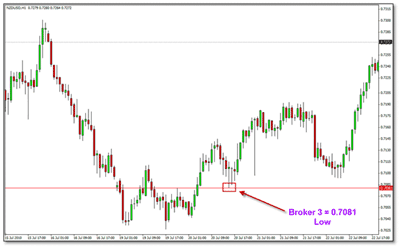 Click to Enlarge
As we can see, on July 20, NZD/USD hit lows around the middle of the day before rallying on to make new highs. Looking back on the actual prices quoted by each broker, we can see that each one varied by a few pips either side, which is very common. If you are charting and trading through the same company, then you can adjust your orders to match the prices given to you by the company's charts. It would be a real headache to trade through one firm and use the charts of another, as you would have to deal with such differences all the time. Yet, considering that 90% of forex firms offer free, real-time demos and charts to anyone interested, it would make sense to have a few others on standby just in case you feel that you were given a bad quote or spike in price.
The truth is that all of the forex firms that Online Trading Academy uses and deals with want business and are in the habit of providing quality services to their clients. They understand what it takes to run a successful company and making their clients' lives difficult is not at the top of their agendas. This may not be the case for every firm out there, but really, who knows until you try them out? And if you are still worried, then I guess trading is just not for you.
By Sam Evans, instructor, Online Trading Academy