A Seasonal Trade for USD/CHF
09/07/2010 11:18 am EST
Focus: FOREX
At the beginning of August, I pointed out that USD/JPY has a strong tendency to weaken during the month. According to our calculation, the currency pair declined in value in August ten out of the past 12 years, and 2010 was no different.
September brings us only one case of seasonality in USD/CHF where the currency pair declined in value eight out of the last 12 years. This month is usually a brutal month for US stocks, which may help to explain why the dollar has repeatedly declined against the franc. Given the challenges that lie ahead for the US economy in the months ahead, we would not be surprised if the pattern is repeated once again.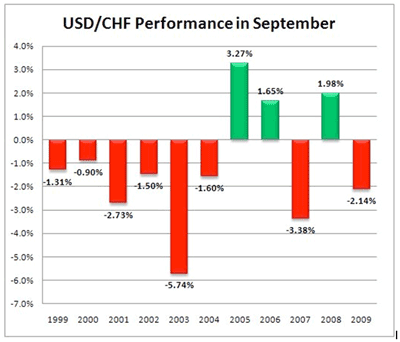 Click to Enlarge
Yet a more interesting characteristic about the month of September is its ability to forecast how the market behaves in the fourth quarter. In the following tables, we can see that the EUR/USD has traded the same way in Q4 as it did in the month of September 63% of the time. For USD/JPY, the pattern occurred 72% of the time. Given that the pattern was not repeated in 2009, it is clear that seasonality does not equate to certainty, but it does indicate the potential predictability of September price action. We never advise following seasonal patterns blindly, but rather, we encourage our traders to utilize this information as a part of their analysis. For example, if USD/JPY strengthens significantly in the month of September and there are opportunities to buy in October, the previous pattern mentioned may add to reasoning behind the trade.
Alternatively, if there are opportunities to sell USD/JPY between the months of October and December, traders should spend a bit more time considering whether fundamentals and/or technicals are strong enough to support the trade. If so, then the patterns can be discounted because given the right scenarios, they have broken in the past.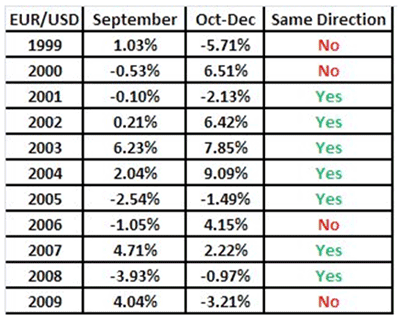 Click to Enlarge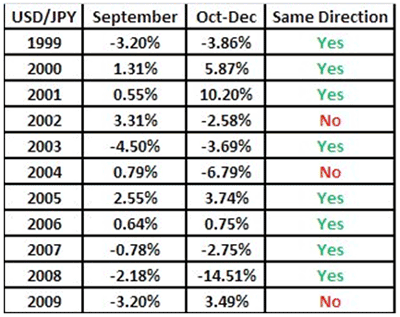 Click to Enlarge
By Kathy Lien, currency analyst, KathyLien.com