EUR/CAD Currency Pair Looks Overbought
01/25/2011 6:30 am EST
Focus: FOREX
The EUR/CAD pair has seen substantial bullish momentum as of late, moving up over 400 pips in the last week alone.
Technical indicators are now showing that a downward correction is likely to occur in the near future, providing forex traders with an excellent opportunity to open up short positions for potentially significant profits.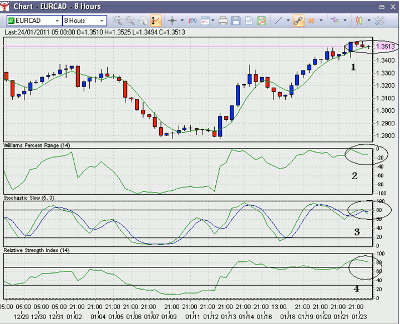 Click to Enlarge
Above, we can see the eight-hour EUR/CAD chart provided by ForexYard. The technical indicators being analyzed are the moving average, Williams percent range, slow stochastic, and relative strength index (RSI).
The pair is currently hovering right below its eight-hour moving average. Any further movement below the moving average line would signal an impending bearish move


The Williams percent range is currently at the -10 level, which is generally considered to be well into the overbought area


A bearish cross has formed on the slow stochastic, indicating a downward reversal is likely to occur in the very near future


Finally, the relative strength index is currently at 80, well above what is considered to be overbought
Aggressive traders would open short positions before the downward breach occurs.
By the Staff at CountingPips.com