British Pound Offering Multiple Profit Opportunities
02/24/2011 7:00 am EST
Focus: FOREX
Data and news events unfolding across the globe have created several trade set-ups for the pound against currency counterparts, most notably the euro.
A slew of recent analyses have shown mixed results for the euro (EUR) over the past several days, brought on by speculation surrounding unrest in the Middle East. Let's look at how the EUR has compared with its British counterpart.
Despite Britain's recent inflationary woes, the pound has actually remained relatively bullish versus most of its currency counterparts. The pound/yen pair (GBP/JPY) was up in morning trading, rising near 134.80 before correcting back towards 134.55 prior to the opening of the European session.
The GBP/NZD was also trading much higher, though analysts expect this to be a result of the recent earthquake in New Zealand and not a signal of any particular strength in sterling.
Looking at the pound in comparison with a number of other currencies, on the other hand, shows a weakening trend in GBP values. The pound has experienced declines against the Swiss franc (CHF), Canadian dollar (CAD), and recently, the US dollar (USD).
Across the English Channel, the euro, while expected to actually benefit from the turmoil spreading throughout the Middle East, appears bearish versus the pound. The rapid buy-in on commodities, particularly crude oil, has the US dollar weakening, thus driving its cross-Atlantic rival, the EUR, higher.
Positive data out of the euro zone has also given impetus to a relatively stable EUR, despite periodic, short-term downturns.
If we look closer at the EUR/GBP we can see that the pound does in fact appear to be outpacing its European counterpart. The pair has been trading within a long-term consolidation pattern, with a consolidation point residing between 0.8400 and 0.8450.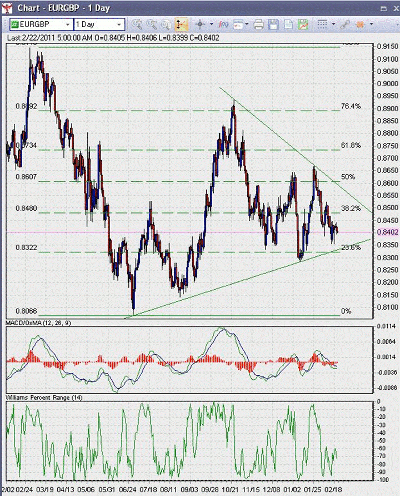 Click to Enlarge
After falling below its 38.2% Fibonacci support line at 0.8480, the pair has seen continuous losses, pushing towards the subsequent Fib level near 0.8320. Given the historic strength of the consolidation pattern, which has been in development since last June, we can expect this pair to find solid support above the next Fib line, potentially bouncing back towards its consolidation zone after touching 0.8350.
This gives forex traders a great opportunity for setting entry positions around the expected targets. The short-term downward target for this pair appears to be 0.8350, with a bounceback target near 0.8450.
By Greg Holden of ForexYard.com