No End in Sight for Euro Uptrend
04/06/2011 5:00 am EST
Focus: FOREX
Despite debt concerns, the euro continues to climb higher against the US dollar, and a look at the daily charts show that this upward trend is showing no signs of reversing or slowing down.
For the past year or more, European nations that use the euro currency have taken turns being downgraded on debt instruments, nearing default on payments, and negotiating financial bailouts among one another. In days gone by, that would have trashed the euro currency as flight-to-quality flew somewhere else as a perceived safe haven.
Here is a daily chart of the euro futures: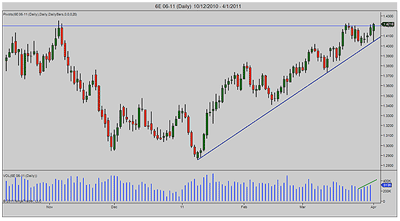 Click to Enlarge
The venerable 1.42 level in EUR/USD futures was widely remarked as a solid line in the sand (ceiling?) when it was reached back in November 2010 at its peak. Even with the current flare-up of euro-nation debts and potential defaults, the currency continues to climb against the US dollar.
That speaks volumes about what the world thinks about near-term potential for USD strength; or, more aptly, the lack thereof.
The latest five sessions (at the time of writing) were all positive closes with increasing volume each day. Price managed to close above the 1.4200 line and rests within an easy blip of new recent highs from there.
On that Friday, April 1, there was also a bullish engulfing bar/candle that eclipsed the prior session on both ends. There is no visible weakness in this symbol on its daily chart at all. An ascending trend line (navy blue) would be the first mark watched for any downside tests to come.
Below is a chart of the daily US dollar index: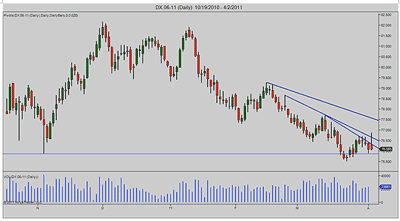 Click to Enlarge
The US dollar index is weighted heaviest against the euro, and then other currencies are scaled from there. It has held initial tests of the prior swing low in November 2010, but no signs of any sustained strength exist in this chart.
The April 1 rejection of rally attempts marks the fourth consecutive close beneath the lowest descending trend line of resistance. It would take a decided break above all three current descending trend lines and a close(s) above 77.50 before anyone could accuse this chart of bullish hints to come.
We might not see very much movement in the US dollar from now until the late-April Federal Open Market Committee (FOMC) event unfolds.
How the euro fares against others such as the Swiss franc and the commodity currencies (AUD, CAD, NZD, and so on) could mean the indirect effect of whether 1.42 remains support or becomes resistance again for EUR/USD.
By Austin Passamonte, private currency trader