USD/CAD Range a Swing Trader's Dream
04/07/2011 6:00 am EST
Focus: FOREX
The range-bound USD/CAD pair is presenting a fine swing trading opportunity as it continues lower in the short term before likely heading for another test of the upper range top.
The USD/CAD pair has been one of, if not the most, profitable opportunities to swing trade over the past few weeks given the clear tops and bottoms formed within its descending channel. Accordingly, with the pair approaching a psychologically significant 0.9600 level, and given the bull rally by the loonie against the greenback, a reversal may be in order before further loonie strength resumes.
Given the momentum of the pair, further losses could be on the horizon, in accordance with rising oil prices and a general shift to risk appetite today. As such, our entry is at the range bottom at 0.9540.
The daily RSI is still declining at 35 now. The slow stochastic oscillator continues to trend lower, though the differential is narrowing, with the %K at 5 and the %D at 8.
Our bias of further weakness in the near term is confirmed by a widening bearish divergence on the MACD histogram; further potential will likely occur before a rebound.
The USD/CAD pair remains entrenched in its descending channel carved out since November and has recently approached its range bottom after a failed attempt to break out of the range top in mid-March.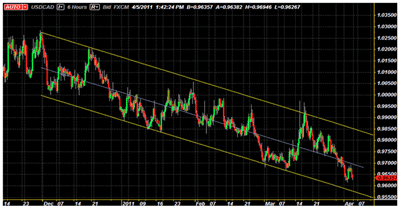 Click to Enlarge
For those traders that got short at the top of the channel, they would have earned approximately 248 pips. There may still be time for aggressive traders to get short as the currency pair heads toward a secondary target at 0.9550.
Accordingly, while I fully expect the pair to fall lower than this level, the drop will not be much further below. At that point, a long position should be entered in order to catch the corrective wave towards the range top.
With both the US and Canada's rate-hike expectations for the next few months fairly stable, the US climbing towards its debt ceiling, thus debasing the dollar, as well as higher oil prices could fuel a flight to the Canadian dollar as a proxy to commodities.
A swing trading opportunity will almost certainly emerge for traders to collect profits on the USD/CAD pair as it retraces some of its losses over the past five months and makes a move back toward the upper line of this descending channel.
No significant data is due for America's northern neighbor until Friday, when labor market data is due.
The Canadian labor market remains robust; having regained all of the jobs it lost during the recession, and the labor force now looks to expand so as to ensure modest growth. Further gains in the labor market could fuel inflation as consumption increases for Canada, which in turn could boost rate-hike expectations over the next 12 months.
By Christopher Vecchio of DailyFX.com