How to Spot the Clearest Forex Set-ups
09/25/2015 9:00 am EST
Focus: FOREX
Using multiple time frames, currency traders can better identify and confirm key price levels, set more accurate stops and profit targets, and ultimately gain more confidence in their trades, according to Alex Salazar of SMB Capital.
In the past, when I was looking for a good set-up in the Australian dollar/US dollar pair (AUD/USD), I found a good example of how to use multiple time frames to enter, manage, and exit a trade.
What we can see in the chart below is a historical example of a more bearish than bullish market. Once the price starts dropping like this, you have two choices as a trader: Sell short or find support for a possible rebound to buy. In this case, I chose to recognize the previous low as a support level.
As you can see at the top-left corner, the time frame of this trade is based on a four-hour (H4) chart. I find that using the longer time frame—in this case, the four-hour chart—is best for finding support levels, even if you are a strict daytrader.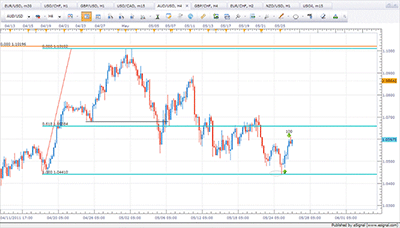 Click to Enlarge
Now that the support level has been identified, and the price has reached that level, we move into smaller time frames to identify a good place to enter a long trade, in this case, the one-hour chart. Click to Enlarge
Now that we find ourselves in the one-hour (H1) time frame, how do we recognize the entry of this trade, the stop loss, and its target?
NEXT PAGE: The Target of This Trade
|pagebreak|
At SMB Capital, many of our traders use the same general methods for locating support. In this particular case, we identified the level of support on our 15-minute chart at level 61.8% of the Fibonacci retracement.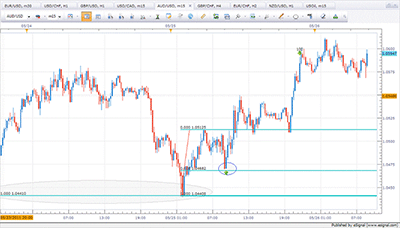 Click to Enlarge
The stop loss is located just underneath that level. This small level of support aids the bigger support level identified, as mentioned previously in our four-hour chart. The view of this trade comes from a macro view and follows into a micro precise entry.
The more time frames I can use to find confluence in one area, the more optimistic I am about the potential profits.
The target of this trade is identified by at a price level around 1.0575. This level was tested multiple times, and if broken, would probably have meant an end to the short-term uptrend.
By Alex Salazar, forex trader, SMB Capital