What Traders Can Expect from the Euro
06/24/2011 6:00 am EST
Focus: FOREX
The latest chart pattern for the euro shows an interesting formation that has yet to be resolved. Given the euro's impact on the US dollar and world equity markets, this is a crucial development to watch.
There has been a lot of media coverage of the debt situation in Greece. No-confidence votes controlling disbursement of ECB funds; would it pass or would the euro be put in jeopardy?
Well, the currency market sure did not seem to care much. Remember the crisis in Greece in May 2010? It crushed the euro. Take a look at the weekly chart below for the Currency Shares Euro Trust (FXE) and see the blue oval if you have forgotten.
No such crash for the euro prior to this vote, and a muted initial response trading near 144 against the dollar. But that weekly chart does show a crossroads with FXE passing through the lower Median Line (LML) of the green, bullish Andrew's pitchfork and midway between the upper Median Line (UML) and the Median Line (ML) of the bearish red pitchfork.
See video: How Median Lines Can Help You Trade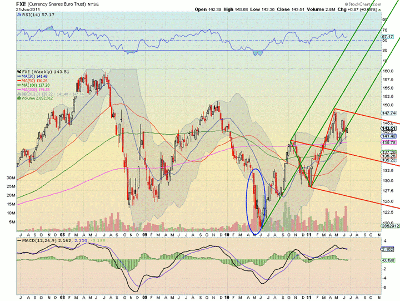 Click to Enlarge
Full separation with the green LML would put the red pitchfork in control and look for FXE to gravitate towards either the UML or the ML. This is the first thing to watch for; a hold or separation from the green pitchfork.
NEXT: See Key Levels to Watch on Daily Chart
|pagebreak|
The daily chart on a 16-month time frame shows that it is hovering around the 20-, 50-, and 100-day simple moving averages (SMAs) on both sides of a 23.6% retracement of the move higher from June of last year.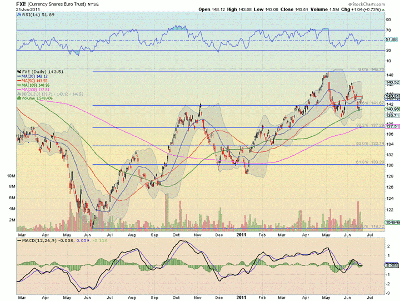 Click to Enlarge
It is biased to the upside with the relative strength index (RSI) rising and the moving average convergence divergence (MACD) indicator about to cross positive, but stuck nonetheless.
Moving into the short-term view above shows the possibility of a symmetrical triangle forming using the trend line from January as a base and the line from the May 4 high to the June 7 high as resistance. Another touch and failure to break through would confirm it.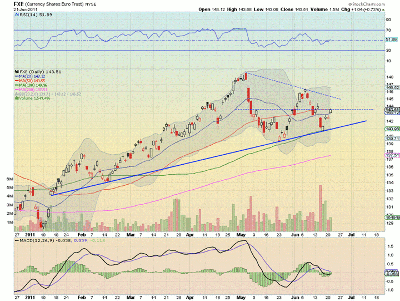 Click to Enlarge
This could mean a range for a while longer between $141 and $145. With the macro events (debt ceiling debate in the US, Greek situation) impacting currencies and counterbalancing each other, it is not clear which way the triangle will break out, or if it will just continue to move sideways.
What is clear is the impact that the euro has on the US dollar, and since the US dollar is driving the equity markets, it is important to keep watching. Stay tuned.
By Greg Harmon of Dragonfly Capital