Good Risk/Reward Set-up in USD/CHF
12/15/2011 6:00 am EST
Focus: FOREX
With fundamental forces pushing buyers to the relative safety of the US dollar, the USD/CHF currency pair is showing favorable long potential and has a low-risk, high-reward entry point nearby.
The risk contagion appears to be spreading, as Norges Bank (the Norwegian Central Bank) cut interest rates by 50 basis points in lieu of the expected 25 basis points.
In addition, the Italian bond auction brought in record yields, and the US dollar (USD) is approaching the November 25, 2011 highs. The market sentiment is returning to "risk off." Money is looking for safety, which is great for forex traders, who can simply look to buy US dollars.
See related: "Risk-on" and "Risk-off" Trades
The USD/CHF has shown relative strength over the past three months, as it has already broken the highs from October 4, 2011. Therefore, we will look for an entry in this pair. Using trend lines to time entries, an entry point into this strong trend is near the .9430 level.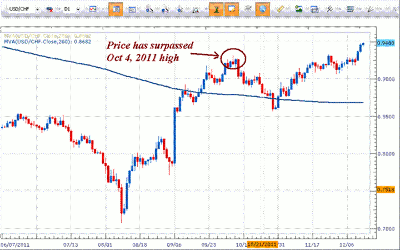 Click to Enlarge
The chart above illustrates how USD/CHF was one of the first major pairs to surpass the swing point price level on October 4, 2011.
Moving down to a one-hour chart, we see a nice price channel has formed.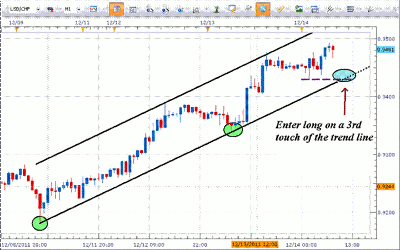 Click to Enlarge
The two green circles represent the two points it takes to draw a line. We will look to enter the pair on a third touch of the line (blue circle). As it turns out, there also exists a horizontal support level (purple dotted line) that coincides with the upward-sloping black trend line.
This presents us with a good chance at a favorable risk/reward ratio. Enter the trade near .9430 with a stop just below the trend line near .9390. Look to take profits near the top of the price channel, which offers a better-than 1:2 risk/reward ratio.
By Jeremy Wagner, lead trading instructor, DailyFX.com